Gigabyte Aero 15 OLED already available with 4K UHD and 512 GB NVMe SSD as standard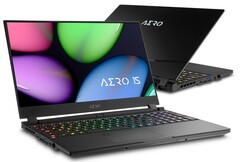 Well, that was fast. Online retailers are now accepting pre-orders for the latest 2019 Aero 15 merely 24 hours after it was made public. The OLED system is notable for its high specifications even at the base level with its 4K UHD display being standard across all SKUs.
Gigabyte showed off its second generation Aero series earlier this week with a new design that looks at least partly inspired by the Aorus family. Both the 2019 Aero 15 and Aero 17 promise significantly better cooling than the first generation Aero models when given the same CPU and GPU options. The Aero 15 OLED will be coming first next month followed by the Aero 17 later in the Summer.
With June just around the corner, however, retailers are already taking pre-orders for the new Aero 15 sooner rather than later. Excaliberpc.com has listed all the new Aero 15 OLED SKUs up for grabs to give us a better idea of what we can expect. Perhaps more notably, all OLED configurations will be shipping with the same 4K UHD Samsung panel meaning you won't have to pay for the highest-end configuration just to get the better display. In other words, the base $1900 option will give you the same visual experience as the top-end $4000 option.
Users uninterested in 4K OLED can still opt for the 240 Hz 1080p SKUs ranging from $1900 to $2300 with GTX 1660 Ti or RTX 2070 Max-Q options. The RTX 2080 Max-Q GPU will be reserved for the OLED SKUs for now. 240 Hz and OLED displays are becoming increasingly common this year with Dell and Razer also offering similar options for their flagship models.