UK's ARCHER2 supercomputer to integrate ~12,000 AMD EPYC Rome CPUs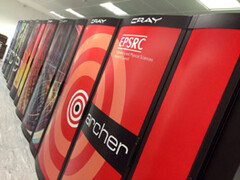 The upcoming ARCHER2 supercomputer will be housed by the University of Edinburgh and will be 11X times faster than the current ARCHER system. When it goes online by May 2020, it will become the fastest CPU-only supercomputer and be among the five fastest supercomputers in the world.
Most of the supercomputers scheduled to go online in the next few years are located in the U.S. and China. Europe is usually trailing behind, but, with the latest developments at the University of Edinburgh from the UK, the old continent should be able to get right back in the big supercomputer leagues.

The University of Edinburgh will be replacing the current ARCHER supercomputer that cost 43 million pounds back in 2013 with the upcoming ARCHER2 model, whose implementation is estimated at 79 million pounds. The UK government has contracted HP subsidiary Cray to handle the implementation tasks. ARCHER2 is expected to be fully functional by May 2020 and will be powered by AMD's EPYC Rome server-grade CPUs that should boost the peak performance by 11X over the current model. This will allow ARCHER2 to join the top 5 fastest supercomputers in the world and become the fastest CPU-only supercomputer.

The ARCHER2 specs list includes:
28 PFLOP/s theoretical throughput
5,848 compute nodes consisting of dual EPYC Rome CPUs clocked at 2.2 GHz
total of 748,544 cores coupled with 1.57 PBytes of RAM and 14.5 PBytes storeage
1.1 PByte all-flash Lustre BurstBuffer file system
1+1 PByte separate file system configured for recovery purposes
Cray Slinghsot 100 Gbps interconnect
23 Shasta Mountain direct liquid-cooled cabinets
Cray Programming + Cray Linux software environments optimized for AMD's EPYC Rome CPUs
Working For Notebookcheck
Are you a techie who knows how to write? Then join our Team! Especially English native speakers welcome!
Currently wanted:
News and Editorial Editor - Details here