The LG G6 and V20 Android 9.0 Pie roll-out is a mess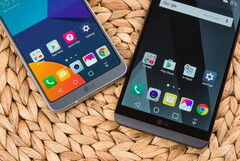 At the turn of this year, LG promised to deliver Android 9.0 Pie to the G6 and V20 by Q3 2019. Has it delivered? If you are a G6 owner then possibly, but many are still awaiting Pie on their handsets as we head ever deeper into Q4. By contrast, LG has offered only the faintest of glimmers for the V20, with all variants missing the self-imposed Q3 deadline.
Last month, we reported on there being "light at the end of the tunnel" for the LG G6 and V20, with it looking likely that both devices would soon receive Android 9.0 Pie. LG had promised to roll-out the OS upgrade to both by Q3 2019, but we are now into Q4, and that is only partially true.
According to MyLGPhones, a website that has proved a reliable source about LG software updates, certain variants of the G6 started receiving Android 9.0 Pie in the final week of September. However, the roll-out remains on-going with the EE variant of the H870 only receiving the OS update yesterday. Moreover, the roll-out in North America is patchy at best. While Verizon has pushed out the update to its G6 handsets, the unlocked US997 is still stuck on Android Oreo, as is the Canadian H873 variant. Worse still, there have been reports of LG Bridge downgrading the H870DS from Android Oreo to Android Nougat and then up to Android Pie, wiping the internal storage in the process.
Meanwhile, there remains no sight of Android 9.0 Pie for the LG V20 anywhere. LG published the Pie-based kernel sources for South Korean models earlier this month, but all devices currently remain on Android 8.0 Oreo. The company has not published a revised release schedule either, leaving everyone in the dark over whether its former flagship will even see Pie before the end of the year.
LG G6 on sale now at Amazon
Battery of V20 on sale now at Amazon