Still no Android Pie for the LG G6, despite LG pushing out a new system update to its former flagship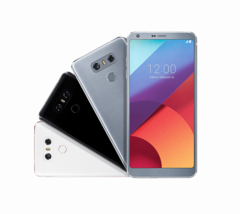 LG has started rolling out a new update to the G6, and it is more than just a new security patch. The former flagship is due to receive Android 9.0 Pie this quarter, with LG promising earlier this year to deliver the OS upgrade between July and September. The Q3 deadline could slip though if the company faces similar problems to what it did with getting the V30 onto Android 9.0 Pie.
The G6 is seemingly next on the list of recent LG flagships to receive Android Pie, with the company promising earlier this year to deliver the OS upgrade in Q3 2019. Almost a month has passed a beta version appeared online, which reportedly contained no noticeable bugs, with some G6 handsets having since received a notification for a system new update. Do not hold your breath though, as the update is not the promised upgrade to Android 9.0 Pie. It is not a security patch update either, of which the G6 is in need considering that it has not received one in three months.
Instead, it is a non-descript 136.56 MB update that contains the following, which has been translated from Polish:
Further improvements introduced. Convenience of service and telephone functionality.
It is worth keeping in mind that the update will seem larger if you download it using LG Bridge, which downloads the whole KDZ rather than just the update package. Some people online, including those on Reddit, have speculated that the update is preparing the G6 to receive Android Pie, despite there appearing to be no evidence of that being the case.
So, while Google has just finalised Android Q and Huawei has already unveiled its custom version of it, the G6 remains on Android 8.0 Oreo. All being well, LG should have Android 9.0 Pie ready for the G6 before Google and Huawei start releasing their Android Q handsets this fall. However, the South Korean company does not have a great record of keeping to its deadlines, as proved the case with the rollout of Android 9.0 Pie to the V30.