AMD accidentally leaks the Ryzen 7 3750X CPU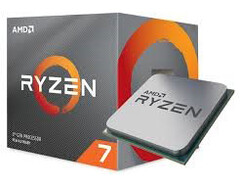 Since the 3700X and 3800X 8-core CPUs are already available, the launch of the 3750X for retail channels might not happen at all. The specs would have to be too similar to the 3800X and a price point between US$330 and US$400 would not really be that justified. AMD may consider launching the 3750X model for OEMs, however.
The unannounced Ryzen 7 3750X CPU was spotted by German site Planet 3D Now! in a Product Master guide accidentally posted by AMD in September. The guide was deleted in the meantime, but Planet 3D Now! managed to screenshot the entire document. Apparently, the 3750X model would slide between the already available 3700X and 3800X, but there is no guarantee that this model would actually hit the market, since TSMC is currently struggling to keep up with the huge demand of 7 nm chips.

According to the leaked Product Master guide, the Ryzen 7 3750X CPU gets a 105 W TDP rating and should feature the same 8-core / 16-thread configuration from the 3700X and 3800X models. Clocks and pricing were not revealed in the official document. However, judging from the specs and price points of the other two models, the 3750X could cost around US$360. Tom's hardware suggests that the unannounced models could be leftover chips that did not actually meet the 3800X requirements due to yield problems, yet are still superior to the 3700X ones.

Rumor has it that the 3750X could get double the L3 cache memory featured on the other two models for a total of 64 MB due to the implementation of dual core complex dies. Moreover, this processor could end up region-locked like the 3500X that is only available in China, or it could be an OEM-only product that will never hit retailers.