Tesla Cybertruck shows off impressive air suspension lift height in latest spy shots, confirming max ground clearance claims ↺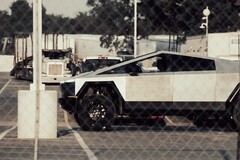 While the delivery date of Tesla's Cybertruck has been pushed back numerous times, due to a variety of factors, including design revisions and production issues, the hotly-anticipated electric pickup truck appears to be nearing its expected late 2023 launch date. As the launch event approaches, more and more images and footage of Cybertruck sightings are popping up online, giving us a good idea of what to expect from Tesla's stainless steel monster.
The latest Cybertruck sighting comes courtesy of Adan Guajardo on X (fka Twitter), and it gives us a chance to see what the Cybertruck's air suspension is capable of on a production or near-production unit. The Cybertruck in question appears to be parked at a Tesla facility, likely the Texas Gigafactory or nearby, and it demonstrates just how effective the adjustable ride height will be for off-road adventures.
It's unclear just how high the air suspension will go but, previous Cybertruck spy shots indicate a tyre size of around 34.6 inches (ca. 88 cm). Knowing that, some image editing trickery puts the estimated ground clearance of the unit in the spy shots at around 15.4 inches (39.12 cm), which is just shy of the 16 inches (40.64 cm) Tesla promised it would deliver. For context, the acclaimed Jeep Wrangler Rubicon 392 features up to 12.9 inches (32.77 cm) of ground clearance, while the Rivian R1T tops out at 14.5 inches (36.83 cm).
All things considered, the Cybertruck seems to stack up as a rather capable off-road machine, despite its expected considerable size and weight. While Tesla has supposedly been doing off-road testing with the Cybertruck, real-world results will have to wait until the vehicle's release.
Buy a Hot Wheels RC 1:64 Scale Tesla Cybertruck Rechargeable Radio-Controlled Racing Car on Amazon.
My interest in tech started in high school, rooting and flashing my Motorola Defy, but I really fell down the rabbit hole when I realised I could overclock the i7 930 in my Gigabyte pre-built PC. This tinkering addiction eventually lead me to study product design in university. I think tech should improve the lives of the people using it, no matter the field. I like to read and write about laptops, smartphones, software and trends in technology.