TSMC countersues GlobalFoundries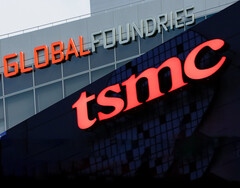 TSMC strikes back with a "retaliatory litigation", claiming that GlobalFoundries infringed on 25 of its patents that include FinFET designs for the 40 through 12 nm nodes. Unlike GlobalFoundries who sued TSMC's fab-less companies like Apple and Nvidia, TSMC is looking to halt all GlobalFoundries production and sale processes for the infringed nodes.
A little over one month ago, GlobalFoundries was suing TSMC over a series of semiconductor patent infringements. TSMC promptly answered that the allegations are completely unfounded and stated it would release an official statement after thoroughly analyzing all the implicated legal issues. Analysts predicted that TSMC would most likely resort to legal countermeasures of its own, considering that it owns quite a few more patents compared to GlobalFoundries. Unsurprisingly, TSMC did just that and recently filed "retaliatory litigation" papers with U.S., German and Singaporean courts.

TSMC now claims that GlobalFoundries infringed on 25 of its patents including FinFET designs for the 40 / 28 / 22 / 14 / 12 nm nodes, shallow trench isolation tech, double patterning methods, advanced seal rings and gate structures plus innovative designs related to contact etch stop layer tech. If GlobalFoundries decides to continue with its unfounded allegations, TSMC is ready to add more infringement claims, as it currently owns more than 37,000 patents. The Taiwanese company has not yet defined the extent of the monetary damages.

GlobalFoundries essentially sued TSMC's clients like Nvidia, Apple and Qualcomm, looking to ban products imported by all these client companies on U.S. and European soil. TSMC, on the other hand, is attacking GlobalFoundries directly, seeking to halt its competitor's production and sale processes for all infringed nodes. While GlobalFoundries did not drag AMD into the dispute, as the company is still a valued client, TSMC's lawsuit is broad enough to affect AMD's Ryzen 3000 and EPYC processors. Moreover, GlobalFoundries immediately commented that it is not impressed with TSMC's intimidation practices and it is confident that its legal stance has a solid foundation.

These lawsuits may end up impacting a considerable portion of the global semiconductor supply in the next few years. Intel and Samsung could end up benefiting from a convenient sale boost in case the two rival foundries decide to drag the legal actions for too long.