Project Cambria: 5 bold features to expect from Meta's next headset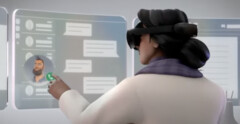 The choices and comments made on this list belong solely to the author.
1. Eye tracking
Project Cambria is expected to feature innovative sensors optimized for eye tracking, allowing developers to tailor more distinct and user-specific experiences. Though allowing ad-tracking agencies the freedom to analyze which content holds a user's gaze the longest is undoubtedly a paramount privacy concern, the new eye-tracking tech could additionally unleash new developments for foveated rendering.
In essence, retina-tracking algorithms could work in conjunction with Cambria's onboard tech to mimic a user's peripheral vision in real time by dynamically bringing onscreen elements in and out of focus as a user shifts their eyes. This subtle improvement could make spending long sessions in the metaverse feel less jarring or fatiguing on the eyes.
A leaked promo video for Project Cambria that surfaced late last year suggests that full-body tracking could be in the cards as well, allowing for leg-equipped avatars that appear less ghostly.
2. Updated lense array
Meta's advanced new headset is also expected to feature a notably slimmer "pancake" lens array that will be integrated along with a mini LED display. The lightweight lens design could reduce neck strain, providing a more ergonomic design, while the brighter mini LED display will likely feature richer contrast thanks to local dimming zones.
Mini LED displays typically require less power and therefore generate less heat, which may reduce the risk of thermal throttling during performance-intensive workflows.
3. Far from supercomputer
During Meta's most recent earnings call, CEO Mark Zuckerberg stated that the target audience for Project Cambria will be users interested in "work use cases and replacing your laptop or work setup". Mixed reality functionality will allegedly join standard virtual reality experiences on Cambria via a full-color passthrough camera. The technology will bridge the gap between VR and AR by allowing users to augment web-based applications in the physical world similar to how an iPhone acts as the viewfinder for augmented reality content.
While Meta has stated that Cambria will feature "high resolution image quality for reading text, with the idea that people can use it to send emails or code" employees inside Reality Labs have described Cambria as a "Chromebook for the face". Based on this insider take it's safe to say that Cambria will likely fail to become a productivity powerhouse capable of replacing laptops or tablets just yet.
4. Advanced controllers
Recent leaks furthermore suggest Meta will be revamping the motion controllers on Cambria, featuring a more compact wand-shaped design. The new controllers will supposedly remove the finicky tracking rings in favor of laser-tracking technology. The new tracking method will presumably enhance motion accuracy while allowing users to interact with virtual objects in the metaverse that are beyond their field of view.
If that sounds at all perplexing just think of all those blocks you missed in Beat Saber because your headset briefly ceased to track your controllers after your saber swing drifted out of frame.
5. Hefty price
According to a recent report from The Information, Cambria was originally expected to cost somewhere in the neighborhood of US$799. However, a Meta spokesperson has stated that the price "would be significantly higher".
Could this headset be to the VR community what the iPhone X was to Apple fans by retailing for US$999 or more?
Self-proclaimed coffee connoisseur and tech enthusiast Brahm Shank is captivated by the impact of consumer tech: "It's profoundly moving when people discover that the phone in their pocket or the tiny computer on their wrist has the power to enrich their lives in ways they never imagined." Apple, Inc. and its unique position at the intersection of technology and the creative arts, resonates deeply with Brahm and his passion for helping people unleash their potential using technology. Over the years, Brahm has held various podcasts - including famed technologist David Pogue of The New York Times on topics such as Big Tech and digital wellness.