Meta Quest v39: 4 features coming to a metaverse near you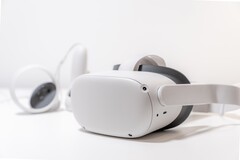 The choices and comments made on this list belong solely to the author.
1. Multitasking exits beta
In v39, Meta opted to lift the veil on multitasking in VR by removing the need to opt-in to the feature via the "Experimental Features" tab in the Settings app.
This not only makes productivity features more accessible for a wider range of users, but it also brings multitasking officially out of its beta stage, meaning Meta believes the experience is finally stable enough for primetime.
2. New home environment
In the latest Meta Quest software update a refreshed "Virtual Workspace" tab in the Quest's settings menu includes a new home environment called "Mountain Study" that joins the "Studio" home space in what Meta is calling the second addition to its "productivity-oriented" environment options.
The Virtual Workspace tab also makes adding mixed reality elements to a user's environment, including desks and couches, a bit more intuitive.
3. Share to headset on iOS
Earlier this year, Meta released Share to Headset for Android adding that support for iOS would debut "in the near future". Ideal for pinging VR-related content from the web to one's headset, the sharing features make their way to iPhone in v39.
Users will need to ensure that both devices are up to date and have Bluetooth enabled in order to take advantage of this feature.
4. Quest Browser receives a facelift
The Meta Quest Browser receives a fresh coat of paint in v39 with a revised logo and expanded functionality thanks to the multitasking features discussed earlier.
Since the Meta Quest Browser supports multiple instances, users can now select which window they would like to restore by clicking the corresponding icon in the Universal Menu.
Self-proclaimed coffee connoisseur and tech enthusiast Brahm Shank is captivated by the impact of consumer tech: "It's profoundly moving when people discover that the phone in their pocket or the tiny computer on their wrist has the power to enrich their lives in ways they never imagined." Apple, Inc. and its unique position at the intersection of technology and the creative arts, resonates deeply with Brahm and his passion for helping people unleash their potential using technology. Over the years, Brahm has held various podcasts - including famed technologist David Pogue of The New York Times on topics such as Big Tech and digital wellness.