4 Meta Quest apps you won't want to miss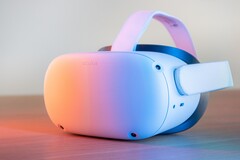 The choices and comments made on this list belong solely to the author.
1. Horizon Worlds - Free
Play through a series of mini games and puzzles or explore sandbox environments created by other players in this social arcade known as Horizon Worlds. Unfortunately, after only a few hours of play you will have likely seen most if not all there is to see since there are only a limited number of community-created worlds to explore. Nonetheless, the ability to team up with or play against friends will definitely satiate that competitive hunger we all have inside us.
First-party developer Meta even integrated features in Horizon Worlds that allow users to enter a virtual Safe Zone to protect against members that may be acting disruptively or inappropriately. In team-based worlds, players can even petition to remove members that may be causing a disturbance. Note: Horizon Worlds is only compatible with Meta Quest 2 and Rift S headsets as of January 13, 2022.
2. Bigscreen Beta - Free
Join a variety of virtual spaces to watch television shows and movies together with friends in BigScreen Beta. Don't like what you see? Feel free to toss your virtual soda or box of popcorn at the screen in dismay.
While BigScreen Beta includes tons of free movie/TV screenings, users can also download media to their Meta Quest headset to share with friends in their own private viewing room. Additionally, users can rent a limited collection of movies to watch right in the application. I'm still crossing my fingers for a way to hook up this service to online TV providers like YouTube TV.
3. Clash of Chefs VR - US$19.99
Explore the rich culture and specialized techniques of the culinary arts in this restaurant simulator masterpiece. Just kidding. Clash of Chefs VR captures the fast-paced energy of games like Diner Dash except in this scenario you are the chef.
Featuring campaign and multiplayer modes for up to four different cuisines, including an American Diner, Italian Ristorante, Mexican Cantina, and a Japanese sushi restaurant, Clash of Chefs VR provides hours of fun. Racing against the timer in multiplayer mode definitely feels like being on one of those reality TV cooking shows.
4. Pistol Whip - US$29.99
Get ready to release some steam and burn some serious calories in the modern arcade shooter Pistol Whip. This virtual reality FPS will have you dodging bullets like you're in The Matrix and shooting fast-paced headshots like John Wick.
With 28 levels to explore, five distinct weapon types, and DLCs constantly being added at no additional charge, Pistol Whip remains one of the best deals on the Meta Quest Store. Best of all, this game captures the thrill of a first-person shooter combined with the beat-driven dubstep-clad nature of smash hits like Beat Saber.
Self-proclaimed coffee connoisseur and tech enthusiast Brahm Shank is captivated by the impact of consumer tech: "It's profoundly moving when people discover that the phone in their pocket or the tiny computer on their wrist has the power to enrich their lives in ways they never imagined." Apple, Inc. and its unique position at the intersection of technology and the creative arts, resonates deeply with Brahm and his passion for helping people unleash their potential using technology. Over the years, Brahm has held various podcasts - including famed technologist David Pogue of The New York Times on topics such as Big Tech and digital wellness.