PSVR 2: 4 alleged specs that will unleash the next generation of gaming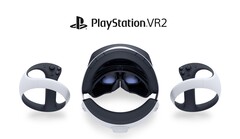 The choices and comments made on this list belong solely to the author.
2. Advanced eye-tracking
In a recent press release Tobii, a forward-thinking company specializing in advanced eye-tracking technology, announced that Sony had selected it as a provider for the new PSVR 2. According to Tobii CEO Anand Srivatsa, integrating the company's eye-tracking tech into the PSVR 2 will "deliver cutting-edge solutions at a mass-market scale".
Ming-Chi Kuo believes that the PSVR 2 is likely to adopt an eye-tracking array that consists of six optical modules with four 720p camera and two dedicated eye-monitoring cameras. Kuo additionally states that a company called Genius is believed to be the supplier of the next-generation aspherical lens layout.
3. Detachable cable and Controller Strap
A leaked hands-on photo of the PSVR 2 headset and controllers was recently shared on Twitter by an indie studio before being quickly removed. Thankfully, the photo has since been shared on reddit, giving gaming enthusiasts the opportunity to analyze the grainy sneak peek.
Eagle-eyed viewers have been able to extract quite a bit about the new headset from the image, beginning with its rounded black and white design that more closely resembles the PlayStation 5.
The photo also seemingly confirms an earlier report from YouTuber Bryan Paul, stating that the PSVR 2's connection cable will be fully detachable and therefore replaceable. Alongside the headset in the leaked photo sits a pair of Sense controllers, revealing the inclusion of wrist straps.
4. Launch window
Kuo, who works as a TF International Securities analyst and supply chain insider, also shared his launch date prediction for the PSVR 2, projecting a debut at some point in the first quarter of 2023. Kuo adds that information from several PSVR 2 component providers suggests that the mass production of around 1.5 million units will begin in 2H22.
Self-proclaimed coffee connoisseur and tech enthusiast Brahm Shank is captivated by the impact of consumer tech: "It's profoundly moving when people discover that the phone in their pocket or the tiny computer on their wrist has the power to enrich their lives in ways they never imagined." Apple, Inc. and its unique position at the intersection of technology and the creative arts, resonates deeply with Brahm and his passion for helping people unleash their potential using technology. Over the years, Brahm has held various podcasts - including famed technologist David Pogue of The New York Times on topics such as Big Tech and digital wellness.