Meta Quest V41: 4 fantastic new features for metaverse fanatics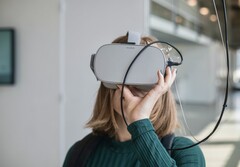 The choices and comments made on this list belong solely to the author.
1. Meta Horizon Home
Originally previewed at Meta's Oculus Connect event back in 2021, a new feature called Meta Horizon Home will allow users to join each other's virtual home environments using their Meta Quest avatars. The new system supports spatial audio for a uniquely immersive feel and groups of friends can even launch into supported multiplayer app experiences together in real time without the need for additional configuration.
A first-party experience in the Horizon Venues app will enable friends to easily attend virtual concerts or host movie night events in the Oculus TV app. In the United States, owners can even use Meta Horizon Home to enjoy select feature films from the Lionsgate entertainment company.
2. Link/Air Link for Windows 11 beta
Meta Quest users who are taking advantage of Link/Air Link systems to access content from their PC will benefit from enhanced stability and deep performance improvements in V41. Best of all, the well-known active console window workaround is no longer needed to troubleshoot Link/Air Link systems.
Without jumping too far ahead to the #4 entry on this list, a new setting under parental controls will allow parents to limit PC screen time by blocking Link and Air Link connectivity to prevent their children from accessing their PC from the Meta Quest headset.
3. Interface polish and App Library
After installing version 41, many Meta Quest users may notice improved color accuracy throughout the system ranging from the Oculus Home screen, to 2D panel apps, and the System UI.
Users can even access a new menu under the Experimental Settings panel called Color Space that allows them to choose how they would like colors to appear across a number of various menus. New filter settings for the App Library are also rolling out soon that will unlock the ability to customize the sorting order of apps.
4. Expanded parental controls
A number of new parental supervision tools make their debut in version 41, including the ability to block children from downloading specific apps and web browsers from the Meta Quest Store. Teenagers (13+) will be able to submit app access requests that parents can accept or reject from the Oculus mobile app on Android or iOS devices.
Parents will additionally have access to their child's complete list of purchased apps, opt in to receive purchase notifications when they purchase new apps, and view headset screen time from their smartphone. Last but not least, parents will be able to view their teen's list of Oculus Friends to monitor who they are meeting online.
Self-proclaimed coffee connoisseur and tech enthusiast Brahm Shank is captivated by the impact of consumer tech: "It's profoundly moving when people discover that the phone in their pocket or the tiny computer on their wrist has the power to enrich their lives in ways they never imagined." Apple, Inc. and its unique position at the intersection of technology and the creative arts, resonates deeply with Brahm and his passion for helping people unleash their potential using technology. Over the years, Brahm has held various podcasts - including famed technologist David Pogue of The New York Times on topics such as Big Tech and digital wellness.