Meta Quest 2 Pro: Noted analyst offers features and price prediction list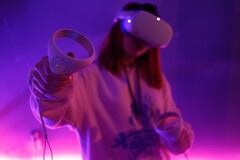 The choices and comments made on this list belong solely to the author.
1. Updated lens array and mini-LED
Prominent tech analyst Ming-Chi Kuo has predicted that Meta's updated Quest headset will feature a noticeably slimmer and more lightweight 2P "pancake" lens array. A departure from the bulky 1P fresnel lens layout on the existing Meta Quest 2, the new array would presumably enable a more ergonomic design that could reduce neck strain for a number of users.
Kuo further suggests that a new 2.48-inch mini-LED display may complement the new lens system by offering markedly better contrast thanks to local dimming zones. The new mini-LED panel will allegedly deliver a crystal clear resolution of 2160 x 2160p for each eye.
2. Countless cameras inside and out
Kuo additionally expects the "Meta Quest 2 Pro" to feature a whopping 16 cameras. While three cameras will allegedly be integrated into each of the two controllers, the remaining 10 cameras will likely be located on the inside and outside of the headset. Earlier rumors suggested that inward-facing headset cameras could unleash new capabilities such as foveated rendering and facial expression recognition in the metaverse.
Adding cameras to each controller for motion-tracking purposes could eliminate the need for the existing tracking rings, enabling a much more compact wand-shaped controller design. By affixing more external cameras to the headset, Kuo adds that "3D-sensing support" could unlock dedicated augmented reality (AR) experiences in addition to the present virtual reality (VR) landscape for gaming and productivity.
The Qualcomm XR2 SoC currently supports a total of seven concurrent cameras though it is not clear if its custom computer vision processor can reliably drive more than seven cameras at once. It is worth noting that the current Meta Quest 2 features only 4 infrared cameras.
3. Same great performance
Avid gamers and creative professionals hoping for a massive leap in performance will sadly be let down this time around. According to Ming-Chi Kuo's predictions, the new high-end Meta Quest headset will feature the same Qualcomm XR2 processor that is present in the current Meta Quest 2 device.
4. Launch window and pricing
Kuo wraps up his "Meta Quest 2 Pro" predictions by forecasting that the pro-level device will begin mass production in Q3 2022 with shipments for 2H22 expected to reach two million units. Kuo also adds that he expects the headset to start at a premium price of US$799 or higher.
Self-proclaimed coffee connoisseur and tech enthusiast Brahm Shank is captivated by the impact of consumer tech: "It's profoundly moving when people discover that the phone in their pocket or the tiny computer on their wrist has the power to enrich their lives in ways they never imagined." Apple, Inc. and its unique position at the intersection of technology and the creative arts, resonates deeply with Brahm and his passion for helping people unleash their potential using technology. Over the years, Brahm has held various podcasts - including famed technologist David Pogue of The New York Times on topics such as Big Tech and digital wellness.