Nintendo Direct 2022: 6 thrilling games that will jumpstart late-night Switch gaming sessions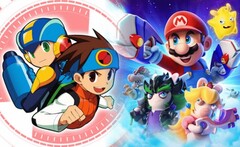 The choices and comments made on this list belong solely to the author.
1. Mega Man Battle Network Legacy Collection
Available in 2023, blockbuster video game giant Capcom is relaunching all 10 Mega Man Battle Network games for the Nintendo Switch in the form of two titles. In classic Mega Man fashion, Nintendo Switch users will play as Mega Man while using Battle Chips to navigate a 3x6 grid to defeat enemy attacks. The Mega Man Battle Network franchise dates back to 2001 with the first version of the game debuting on the Game Boy Advance.
The new two-volume game bundles will combine the battle card strategy and RPG action format that made the Mega Man games a hit series into a brand-new title that is fully optimized for the Nintendo Switch, PlayStation 4, and PC. Support for Xbox consoles was notably missing from the announcement, upsetting many fans of the franchise. Pricing for both of the titles in the collection is yet to be determined.
2. Mario + Rabbids: Sparks of Hope
The only first-party Nintendo game to make an appearance at Nintendo Direct Mini 2022 sees classic Mario Bros. characters once again joining forces with the Rabbids to defeat evil entities across the galaxy.
Debuting on October 20, 2022 for US$59.99, this exciting action adventure title allows players to pick from 9 heroes to design their ultimate fighter alliance. Rescuing characters called Sparks throughout the story will help players gain unique advantages when battling bosses in this fast-paced strategy game.
3. Portal: Companion Collection
Available now, the Portal: Companion Collection is a two-game bundle that brings developer Valve's Portal and Portal 2 games to the Nintendo Switch for the first time at just US$19.99 on the Nintendo Online Store. Portal 2's co-op game mode will allow players to join forces using separate Nintendo Switch consoles, while an all-new story mode centers around the adventures of two distinct robot characters.
This action-adventure game will have Nintendo Switch players using their portal gun to navigate a series of challenging puzzles throughout Aperture Laboratories before facing off with a rogue A.I. boss named GLaDOS.
4. Super Bomberman R 2
Launching in 2023, developer Konami's Super Bomberman R 2 expands upon the original Super Bomberman with a new installment packing in eight Bomberman Brothers as playable characters. A new battle setting called "Castle" mode will require players to team up with each other to ward off enemies by building defense mechanisms and attack plans.
The teaser trailer for this titles touts an "incredible amount of content" as a headlining feature. The nature of the content is anyone's guess. In addition to the Nintendo Switch, this title will also launch on PC via Steam, the PS4/PS5, and the Xbox One/Series X. Pricing has not yet been detailed.
5. Pac-Man World Re-Pac
Releasing on August 26, 2022 for the Nintendo Switch, Pac-Man World Re-Pac is a direct remake of the 1999 classic Pac-Man World from developer Bandai Namco Entertainment . This action puzzler will have players on the Nintendo Switch, PS4, and PS5 playing as a desperate Pac-Man fighting to save his kidnapped family from the horrifying Ghost Island. With updated motion mechanics and enhanced visuals, this remastered version of Pac-Man World is sure to deliver hours of non-stop fun. Pricing has not yet been revealed for this title.
6. Railgrade
Later this fall, a brand-new strategy title from Epic Games will have players operating a railway management simulator that is used to transport resources and power to an off-world colony. While pricing has not yet been disclosed, Epic Games has revealed a number of details regarding in-game content, including hundreds of available engine/cargo combinations for locomotive networks. A Nintendo Switch exclusive, players are tasked with creating the most efficient railroad supply chains while navigating environmental challenges.
Self-proclaimed coffee connoisseur and tech enthusiast Brahm Shank is captivated by the impact of consumer tech: "It's profoundly moving when people discover that the phone in their pocket or the tiny computer on their wrist has the power to enrich their lives in ways they never imagined." Apple, Inc. and its unique position at the intersection of technology and the creative arts, resonates deeply with Brahm and his passion for helping people unleash their potential using technology. Over the years, Brahm has held various podcasts - including famed technologist David Pogue of The New York Times on topics such as Big Tech and digital wellness.