Steam Summer Sale 2022: 3 essential open world survival games to explore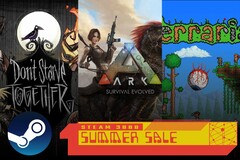 The choices and comments made on this list belong solely to the author.
1. ARK: Survival Evolved
ARK: Survival Evolved is one of the most popular games on Steam, averaging anywhere between 30,000 and 90,000 concurrent players per day. So, what's all the fuss about? Well, ARK is a first-person, open-world survival game with a twist—you are trapped on a mysterious island filled with all manner of prehistoric life, and you must explore, craft, fight, and use your wits to survive. In addition to the core survival, crafting and loot gameplay, you can tame and ride dinosaurs—and dragons—which is bound to please all the Jurassic Park fans out there, especially considering the dinosaurs actually have feathers for once.
While ARK does involve a significant grind to reach the endgame, it is a stunning, challenging game that allows your character to progress in meaningful ways if you put in the time. If the idea of riding giant lumbering beasts into battle against other, slightly different giant beasts sounds like a good time, ARK: Survival Evolved is 67% off during the Steam Summer Sale, coming in at US$9.89 for the base game.
2. Don't Starve Together
Don't Starve Together is a multiplayer survival game that pits a group of players against a wholly unforgiving environment. It features the standard survival game fare of exploring, gathering, and crafting in order to survive. What makes Don't Starve Together stand out is the unique hand-drawn art style and environmental design that contribute to the unsettling environment players find themselves in.
While you can play Don't Starve Together alone, it is primarily a multiplayer-centric experience—given that it's basically a multiplayer re-release of the single-player Don't Starve, which is also incidentally on sale. With co-op play in mind, you can grab two copies of Don't Starve Together—one for you and one for a friend—on Steam for US$5.09 for both during the Steam Summer Sale.
If you're looking to get into PC gaming but have a very limited budget, the Lenovo Ideapad Gaming 3 is great bang for the buck and available on Amazon.
3. Terraria
Imagine Minecraft, but with less-demanding graphics and 2D, side-scroller gameplay—that's Terraria in a nutshell. In Terraria, you must dig to explore, find treasure, craft your world and gear, and battle the occasional monster as you traverse through randomly generated worlds. Terraria seems basic on the surface, but dig deeper and you'll find that its engaging crafting and exploration make for a great game that you can enjoy alone or with friends or family.
If you would like to challenge your creativity and try out a unique take on the open-world sandbox genre, you can get your grubby paws on Terraria for US$4.99 during the Steam Summer Sale.
My interest in tech started in high school, rooting and flashing my Motorola Defy, but I really fell down the rabbit hole when I realised I could overclock the i7 930 in my Gigabyte pre-built PC. This tinkering addiction eventually lead me to study product design in university. I think tech should improve the lives of the people using it, no matter the field. I like to read and write about laptops, smartphones, software and trends in technology.