May 2022 Steam Survey offers up 3 takeaways including Nvidia RTX indifference and continued AMD popularity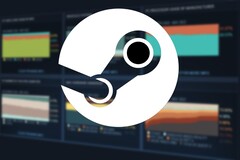 The choices and comments made on this list belong solely to the author.
1. The king is dead, long live the king. Will the quad-core ever die?
The ultimate demise of the quad-core CPU has been a long time coming—5 years, to be exact—but, for some reason, that particular CPU configuration has incredible staying power. According to the Steam survey, 33.22% of Windows gamers are still on quad-core parts—representing the second most common configuration—while 33.60% are on six-core CPUs. Perhaps more interestingly than quad-core and six-core numbers is the consistent rise in popularity of eight-core and higher parts—where six-core configurations fluctuated between 32.25% and 34.22% of the market between January and May 2022, eight-core parts saw a consistent increase from 16.63% in January 2022 to 18.68% in May 2022, and 12-core parts went from 1.30% to 2.01% in the same period.

While a one-percent increase is not earth-shattering, eight-core parts saw the biggest increase of all in May 2022, jumping up by 0.77%. Ultimately, it's not particularly surprising that quad-core parts are still quite prevalent considering Steam is a predominantly gaming-oriented platform—most games still don't fully take advantage of multiple cores—it is still interesting to see the effects of a market shifting to higher core counts. Hopefully, the shift in hardware will inspire developers to make use of all that power.
2. Nvidia RTX is still not significant
When Nvidia launched its RTX technology, the gaming community was divided into two camps—those who thought it was going to take over the gaming space, and those who thought it was a big nothing-burger—and as it turns out, both were kind of right. Nvidia GeForce RTX cards only occupy three spots in the top 10 graphics cards on the Steam Survey, with the GeForce RTX 2060 as the fourth most popular GPU, the RTX 3060 Mobile variant coming in at a humble seventh place, and the GeForce RTX 3060 Ti coming in 10th from the top — proving that RTX technology is either too expensive or the gains aren't worth the upgrade just yet.
The most popular GPU, according to the Steam Survey, is still the GeForce GTX 1060, with the GTX 1050 Ti and GTX 1650 trailing in second and third place, respectively. Perhaps more significant though, is that the GeForce RTX 3080 saw the biggest jump in popularity out of all the GPUs sampled, seeing a bump of 0.24% in May 2022 and an overall increase of 0.4% between January and May 2022.
3. More people are moving to AMD
Whether you look at Windows or Linux data, there is a clear trend of increased AMD CPU adoption. In May 2022 alone, AMD CPU usage on Windows machines saw an increase of 1.24%, while Intel CPU popularity dropped by a conspicuously similar 1.23% in the same period (perhaps the other 0.01% switched to Apple silicon?). AMD adoption on Linux was even higher, with an increase of 4.22%, bringing the proportion of Linux users on AMD to a whopping 46.28%, dangerously close to 50%.
The move from Intel to AMD could mean a number of things, so we can only speculate without more specific data, but it's certainly good to see AMD picking up momentum in the gaming space.
You can push the needle even further in AMD's favor and get yourself a sweet laptop with the Lenovo Legion 5, available on Amazon.
My interest in tech started in high school, rooting and flashing my Motorola Defy, but I really fell down the rabbit hole when I realised I could overclock the i7 930 in my Gigabyte pre-built PC. This tinkering addiction eventually lead me to study product design in university. I think tech should improve the lives of the people using it, no matter the field. I like to read and write about laptops, smartphones, software and trends in technology.