4 superb M2 MacBook Pro alternatives for Windows users that can't stand macOS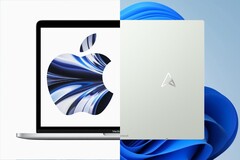 The choices and comments made on this list belong solely to the author.
1. Asus ZenBook S 13 OLED - as good as it looks
If you're looking for a thin and light laptop with stellar performance—both CPU and GPU—great battery life, an excellent display, and a bit of design flair, the Asus ZenBook S 13 OLED should be at the top of your list. The AMD Ryzen 7 6800U might not top the charts in terms of multi-thread or single-thread performance, but it's certainly no slouch, beating out some older H-series Ryzen CPUs and even trading blows with the MacBook Pro 13's Apple M2 SoC in some cases, while the Radeon 680M iGPU is one of the biggest steps forward for integrated graphics in recent memory.
Performance aside, the ZenBook S13 OLED features a crisp, 550 nit, 13.3-inch, 16:10, 2.8K OLED display with 100% DCI-P3 colour gamut, up to 16 GB of DDR5 RAM, and a magnesium chassis that brings the overall weight down to just 1 kg (2.2 lbs).
2. Framework laptop - if you just plain hate Apple
In a comparison to Apple laptops, it only makes sense to include the antithesis to Apple's ideology. If you're a little out of the loop—tech news comes hard and fast, nobody can blame you—the Framework laptop is upgradeable, repairable, and it features customisable ports via a modular, open-source, USB type-C port interface. The modular interface already puts it above Apple's abysmal dual-USB-type-C 13-inch MacBook Pro.
Probably the most notable thing about the Framework laptop is the commitment to the upgradeability in the company's ethos. Since the first model launched in 2021, the startup has already released a drop-in motherboard upgrade to the latest 12th Generation Intel Core i7-1280P, i7-1260p and i5-1240p CPUs for up to 14 cores. The standout aluminium chassis, bright, 13.5-inch, 3:2 display, and great battery life put the Framework laptop in a strong position to contend with Apple's M2 MacBook Pro, especially if you're looking for a laptop with a focus on reliability and dependable performance rather than a device that's trying to be everything to everyone.
3. The Asus ROG Zephyrus G14 (2022) is a compact creativity powerhouse
The 2022 refresh of the 14-inch Asus ROG Zephyrus G14 is just as much of a hit as the previous versions were, serving as an almost perfect combination of good design, a class-leading display, and decent efficiency. The powerful AMD Ryzen 9 6900HS paired with up to an AMD Radeon RX 6800S, and a 120 Hz, QHD+ display with full coverage of the DCI-P3 colour gamut make it a great all-round laptop for gamers and content creators alike, while the compact size grants the Zephyrus G14 a level of portability often only available in low-powered thin and light machines.
Great specs aren't everything, though, and the Zephyrus G14 delivers on the usability front as well, with a decent port selection, a MUX switch for gamers, and a sizeable trackpad for those of us who don't like carting around peripherals to do office work. Speaking of office work, there's a webcam this time as well!
4. Lenovo Yoga 9i 14" - for something a little more flexible
The premise of the Lenovo Yoga 9i is simple—a 14-inch 2-in-1 laptop with solid performance and an excellent OLED screen. If you don't mind paying a bit of a price premium, the Yoga 9i is a great choice if you want something that beats out the M2 SoC in most scenarios where raw CPU horsepower is necessary—especially if you don't mind a bit of a loss in efficiency as a result.
The nifty 2-in-1 form factor adds unique flair to the Yoga 9i, and the inclusion of a touchscreen and pen make it possible to use it in ways the MacBook just can't match. The Yoga 9i can be had with up to an Intel Core i7-1260p—a CPU that performs alarmingly close to the Apple M1 Max in many scenarios, even if it does use more power doing so—and although it doesn't feature a dedicated GPU, the 96 EU Intel Iris Xe G7 iGPU is a fantastic performer for some light gaming and productivity acceleration.
The fantastic Lenovo Yoga 9i is a great buy if you're the type that likes great performance in a slim, versatile form factor, and it's available on Amazon.
My interest in tech started in high school, rooting and flashing my Motorola Defy, but I really fell down the rabbit hole when I realised I could overclock the i7 930 in my Gigabyte pre-built PC. This tinkering addiction eventually lead me to study product design in university. I think tech should improve the lives of the people using it, no matter the field. I like to read and write about laptops, smartphones, software and trends in technology.