3 Steam indie games that lost the plot but kept the insanity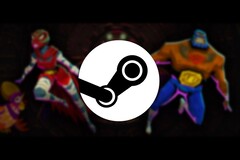 The choices and comments made on this list belong solely to the author.
1. Vicious Attack Llama Apocalypse (VALA)
Have you ever wondered what would happen if the world had to face an onslaught of vicious llamas? Well, wonder no more—RogueCode's Vicious Attack Llama Apocalypse puts you and up to three friends in control of mech-piloting human warriors tasked with mowing down hordes of rampaging, bloodthirsty llamas as they descend on Santa Llama City, under orders from the Llamanati.
If that wasn't enough to convince you to give this indie "top-down, roguelike-lite-ish twin-stick shooter"—a quote from the game's Steam page—a go, then have a look at the trailer below.
2. Guacamelee! 2
Guacamelee! 2 is the 2018 successor to the remarkably successful Metroidvania, action-platformer, Guacamelee! that won the hearts of gamers in 2013. Guacamelee! 2 takes all of the good things about Guacamelee! and ups the ante, amping up the challenge, adding even more puns, and developing the story to get you emotionally invested while you're laughing.
Guacamelee! 2 sees the player take control over The Chosen Juan—there's one of those aforementioned puns—to go on an adventure to save the Mexiverse. The masked luchador must abandon his retirement as he is ripped out of his timeline, away from his family, and thrust back into the fight against the evil villain, Salvador.
If you're just getting into PC gaming, you might want to get your hands on a gaming monitor, like the ASUS TUF Gaming 27" 1440p, 165 Hz, Curved Gaming Monitor, available on Amazon.
3. Boet Fighter
BOET FIGHTER is a mega-schweet faaghting video game where Hard Eddy and his taaghtest charnas must moer all of Fourways in the face, as they faaght to reclaim his stolen binnet! It's got creatine, vaalence and house beats, boet!
-Boet Fighter Steam Store page description.
If you know, you know, but given that most of the world isn't from a small town just outside of Johannesburg, South Africa, a translation is in order. Boet Fighter puts players in command of Hard Eddy and his compatriot as they fight their way through waves of gym bros on the streets of Fourways, South Africa to find Eddy's stolen girlfriend. Think of it as some strange combination of the story of Super Mario and the game mechanics of a side-scrolling brawler game, with a touch of social commentary buried under its simplistic plot.
Unfortunately, Boet Fighter's stereotypes and humour give it a niche appeal, so you might want to have a look at some gameplay footage and the trailer before you spend any hard-earned money on it.
My interest in tech started in high school, rooting and flashing my Motorola Defy, but I really fell down the rabbit hole when I realised I could overclock the i7 930 in my Gigabyte pre-built PC. This tinkering addiction eventually lead me to study product design in university. I think tech should improve the lives of the people using it, no matter the field. I like to read and write about laptops, smartphones, software and trends in technology.