Windows 11 22H2: 4 indispensible features coming (back) in the August 2022 Sun Valley 2 update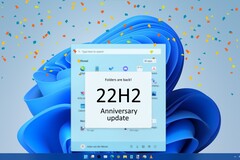 The choices and comments made on this list belong solely to the author.
1. Finally adjust the recommended files area
The recommended files section of the Windows 11 Start menu was one of the biggest annoyances in the operating system. Users saw it as a waste of space on an already sub-optimal Start menu, and while you could remove the recommended files, you could not regain that space without third-party tools or tweaks.
For once, it seems like Microsoft listened — as much as we can expect from Microsoft, at least — and added an option on the Start menu personalisation page (Settings -> Personalisation -> Start) to allow users to adjust the size of the recommended section. It's not much, but it gives users an extra row of space for the pinned apps section — enough space for around six apps — before scrolling is needed.
There is also an option to add more recommended files — it's not clear who wants this, but kudos to Microsoft for adding more customisation options.
2. Drag and drop on the taskbar has returned
One common complaint heard amongst enthusiasts is about the taskbar being stripped of many features — one such removal was the ability to drag and drop files to the taskbar to open the file using a pinned app. Microsoft is finally reversing that much bemoaned decision — a change that may even convince some power users to hop aboard the Windows 11 train.
Perhaps Microsoft is playing some sort of bizarre 4D chess and this was the plan all along — everyone loves a good redemption story — or maybe it is simply trying to address the complaints holding back Windows 11 adoption.
If you're due for an upgrade to be able to run Windows 11 well, you may want to check out the Samsung Galaxy Book2 Pro and its Intel Core i7-1260P, available on Amazon.
3. Streamlining the UI...mostly for touch
Windows 11 was a big step forward for making Windows better for 2-in-1 laptops and tablets. The Sun Valley update furthers Microsoft's touch-first ambitions by making a few changes to the taskbar, window animations, and the settings app.
The taskbar will automatically shrink when the device is in tablet mode to save space on a small screen — it can be expanded again with a quick swipe from the bottom of the screen (this feature was actually removed in the latest insider build, so it will probably change before official release). The settings app also got some love — more control panel options are moving to settings, and a family options page will allow you to keep a close eye on the mini turbo nerds under your care.
If you've used touch on Windows 10 and hated the gestures, you'll be happy to know that the new build of Windows 11 will have improved touch gestures and animations — instead of an animation lagging a gesture by a few milliseconds, the animations now track to the gesture to make interactions feel more natural.
4. Start menu folders on the pinned apps screen
Not one to be a combo-breaker, Microsoft continues to return functionality to Windows 11 — this time in the form of folders on the pinned apps section of the Start menu. If you have any sort of desire to visually organise your Start menu, folders are an essential part of that, and Microsoft's removal of the feature was lamented by many who upgraded to the new version of Microsoft's OS.
Never missing a beat, Microsoft's critics are already complaining about how the feature is being implemented, but maybe by the second year anniversary update, Microsoft will deliver an OS that pleases its user base.
The return of some key functionality to Windows 11 is a glimmer of hope in what has been a pretty bumpy ride since the OS first launched. Hopefully Microsoft continues to listen to user feedback. If you want to provide said feedback and try out a new build of Windows, you can join the insider program at your own peril.
My interest in tech started in high school, rooting and flashing my Motorola Defy, but I really fell down the rabbit hole when I realised I could overclock the i7 930 in my Gigabyte pre-built PC. This tinkering addiction eventually lead me to study product design in university. I think tech should improve the lives of the people using it, no matter the field. I like to read and write about laptops, smartphones, software and trends in technology.