Ditch Office 365: 3 free Microsoft office alternatives for Windows, Linux and macOS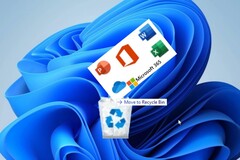 The choices and comments made on this list belong solely to the author.
1. Apache OpenOffice — the office suite for geriatric computers
Apache OpenOffice is the original open-source office suite for Windows, Linux, and Android (as AndrOpen Office), but it has been overtaken by LibreOffice in recent years. OpenOffice and LibreOffice have very similar user interfaces and feature-sets, given that LibreOffice is a fork of OpenOffice — OpenOffice is not quite as feature-rich as LibreOffice though, since it does not get updated as frequently.
OpenOffice offers support for a variety of modern and legacy document formats, but where it truly shines is for use with older or low-power hardware. Its small footprint and low CPU and RAM usage make it the perfect office suite for an old closet-dwelling laptop with a crusty dual-core CPU, or a Raspberry Pi running Linux.
2. LibreOffice — the document suite for nerds
LibreOffice is the go-to open-source office powerhouse. It has everything you realistically need — word processing, presentation creation, spreadsheet wrangling...you name it, LibreOffice has it — but the user interface is definitely a throwback to Windows XP days. LibreOffice does offer theming and custom layouts, but the default UI looks like something pulled straight out of Windows XP. Subjectively, the somewhat retro look and feel may appeal to some. Objectively speaking, the UI is unoptimised and somewhat messy — with options buried in sub-menus in odd places — which gives the software a bit of a steep learning curve.
User-created extensions expand the functionality of LibreOffice even further, while Collabora Office offers a paid, enterprise-ready, cloud-based collaboration solution based on LibreOffice.
LibreOffice offers support for just about every document format under the sun, including PDF and Microsoft's proprietary formats. If you're not afraid of spending some time setting up the software to your liking and getting used to some quirks, you should give LibreOffice a chance.
If you're looking to get some work done on a budget, the versatile Lenovo Flex 5 14 with the AMD Ryzen 5 5500U is available on Amazon.
3. ONLYOFFICE — the open editor for everyone else
ONLYOFFICE is a free, open-source office suite — featuring word, presentation, spreadsheet, and forms programs — for Windows, Linux, and MacOS — there is even an M1-compatible version — as well as mobile apps for Android and iOS.
What sets ONLYOFFICE apart is real-time collaboration through the ONLYOFFICE cloud or a variety of third-party cloud services, including kDrive, Liferay, Nextcloud, ownCloud, and Seafile.
ONLYOFFICE supports all the modern document formats you might get from a colleague or collaborator using Microsoft Word, PowerPoint, or Excel, so you can have peace of mind knowing that you won't have too many compatibility issues. Unfortunately, while LibreOffice and OpenOffice allow you to relatively easily edit PDFs, ONLYOFFICE does not.
ONLYOFFICE is aimed squarely at competing with Google's and Microsoft's online office suites, providing a rich experience, and only with a few small sacrifices in the name of user-friendliness.
My interest in tech started in high school, rooting and flashing my Motorola Defy, but I really fell down the rabbit hole when I realised I could overclock the i7 930 in my Gigabyte pre-built PC. This tinkering addiction eventually lead me to study product design in university. I think tech should improve the lives of the people using it, no matter the field. I like to read and write about laptops, smartphones, software and trends in technology.