Pokemon Masters pre-registration has begun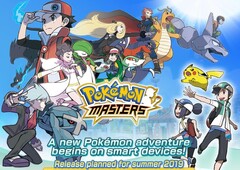 The result of a recent partnership between DeNA and The Pokemon Company, Pokemon Masters is a new strategy game that throws into 3-on-3 real battles sync pairs that consist of a Trainer and a Pokemon. Those interested can pre-register for this free-to-play mobile game on both the App Store and Google Play.
Pokemon fans who need more will soon have a new game at their disposal, namely Pokemon Masters. This title is the result of a joint effort by The Pokemon Company and DeNA. Pre-registrations are now open for all users of Android and iOS mobile devices.
The new title brings sync pairs (a Trainer and a Pokemon) in 3-on-3 real-time battles. The players will be able to challenge AI opponents for taking over the island of Pasio. The game is already available as a preview version in some markets, but those interested can pre-register on both the App Store and Google Play to be first to download it as soon as it becomes available in their region.
Right now, there are no less than six gameplay trailers available on YouTube (check this channel for the latest Pokemon Master videos). The existing videos cover the battle and progression systems, cooperative play, how to build the perfect team, the Story Mode, and more.
Pokemon Masters will be launched later this summer. Most markets will get it as a free-to-start game with in-app purchases.