New research asserts many adults want smart assistants to help look after their health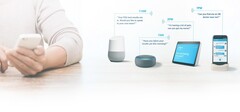 Orbita, a company that makes a personal assistant-like AI platform focused on healthcare, has published the results of a study that shows this is what the US adults recruited to it want from their voice-controlled searches. It apparently concludes that 7.5% of this group has used services such as Alexa for this purpose, whereas over 50% would like to.
Orbita makes an AI platform on which "intuitive, dynamic and personalized voice and chatbot virtual assistants" for clients in the healthcare industry are based. The company is confident that this is an authentic direction for voice-controlled software, particularly in the wake of a study it commissioned that apparently shows this outcome.
To this end, the researchers involved surveyed a total of 1004 US individuals over the age of 18. They reportedly found that 52% of these respondents were interested in using Google Assistant or Amazon Alexa in relation to their healthcare, although only 7.5% had actually done so. Of that proportion, many were likely to be of the 18-29 years age bracket.
Nevertheless, those of 45 to 60 years of age were the most enthusiastic on the subject of voice assistants in healthcare. This concept could entail simply activating these platforms with health-related queries; however, Orbita also envisions that they could be used to connect patients with their providers either directly or indirectly.
Accordingly, the use-cases for AI healthcare assistants could presumably be taken even further, such as integrating other sensors such as cameras ("Alexa, does this look infected?"), dedicated smart speakers and so on. Then again, it is to be hoped that user privacy and data security are particularly well-safeguarded in this potential area of personal digital helpmeets.