Update | New Assassin's Creed game may have been leaked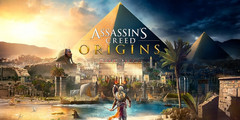 It's possible the latest installment in the incredibly successful Assassin's Creed franchise may have just been leaked. French website JeuxVideo-Live has posted an image of a promotional keychain that features the title "Assassin's Creed Odyssey" on the packaging. Both the title and the keychain style suggest that the next game in the series will be based in Ancient Greece.
Update 6/1/2018: A brief video clip on the official Twitter account for Assassin's Creed has confirmed the existence of Assassin's Creed Odyssey.
Original article:
JeuxVideo-Live has published a picture (see below) of a promotional keychain that could be connected to the next edition of the Assassin's Creed series. The packaging features the words "collectible helmet keychain" and more importantly for gamers the words "Assassin's Creed Odyssey." The French website claims the insider that provided the item image is a reliable source, although Ubisoft has not confirmed the existence of the title.
The keychain comes in the shape of a Corinthian helmet often associated with media depictions of Spartan warriors, which immediately conjures up an Ancient Greek setting for the rumored game. The title itself is also a clue to the likely setting. The word "Odyssey" derives from the epic poem named after the famous Greek hero Odysseus (Latin name: Ulysses), who spent 10 years at war against the Trojans and then took another 10 years enduring a fateful voyage to get back home to Ithaca (a Greek island).
Ancient Greece makes an ideal setting for an episode of Assassin's Creed. However, it remains to be seen whether Ubisoft will confirm or deny development on a new game. Assassin's Creed Origins was only released in late 2017 and has been receiving new DLC expansions recently. Ubisoft's E3 showcase on June 11 may provide the answers to the appearance of this mysterious merchandise.