Images from rumored Harry Potter RPG leaked online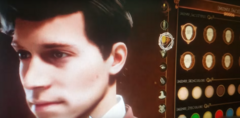 Footage of a new Harry Potter/Wizarding World game has been leaked online, appearing recently on Reddit. There have been many Harry Potter-related video games in the past, but images captured from the leaked clip seem to show that this particular game could be the one HP fans have been waiting for. Unfortunately, the video is currently unavailable because it contained copyrighted content from Warner Bros. Entertainment Interactive.
A Reddit user called VapeThisBro recently posted a video, containing footage of a new Harry Potter game in development, on to the media-sharing website. Although some initially questioned the veracity of the clip, it has now been removed from the site and blocked on YouTube due to copyright issues, leading many to believe it is an actual Warner Bros. project. There are already plenty of video games based in J.K. Rowling's Wizarding World, but this one has excited fans in particular due to its rumored content, game features, and high-quality visuals.
Harry Potter games have not fared especially well in terms of critical reviews. Arguably the best of the bunch so far is the Lego Harry Potter: Years 1-4 adventure game from 2010, which was praised for its playability and humor. At the other end of the spectrum is EA's Harry Potter and the Deathly Hallows (Part 1), which was not as well received, with users complaining about its repetitive gameplay. Now it seems Harry Potter/Wizarding World fans around the world could finally be getting a game worthy of their dedication.
Unsurprisingly, little is known about the title beyond rumors and hearsay. It is expected to be an RPG, and it may have the name Harry Potter Magic Awakened (or Magic Forever). Character creation will probably be involved and the player can choose whether to play as a good wizard or an evil warlock, with a total of eight different wizard types to pick from. According to the supposed marketing text that was with the leaked clip on Reddit, players will also be able to fully explore Hogwarts, master magic, and craft their own story in the Wizarding World. Sounds magic.