Assassin's Creed Ragnarok leaks: Alleged release date, platforms, and blurred image of main character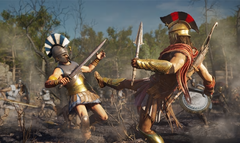 Assassin's Creed Ragnarok, which is apparently codenamed Kingdom, appears to have been leaking all over the place lately. The numerous leaks have included details about the gameplay and story, and there is even a supposed first look at the game's lead character, Jora. The next episode in the famed series is expected to be available on PS4, PS5, Xbox One, and Xbox Series X.
Games in the Assassin's Creed series are frequently subject to leaks, and this time around we have a whole flurry of information about the next chapter in the storied franchise. According to the leaked details, the game will be set in the Scandinavian region, France, and England, which will help explain the title Assassin's Creed Ragnarok. The game will be released on the PS4, PS5, Xbox One, and Xbox Series X.
An announcement for Assassin's Creed Ragnarok has apparently been scheduled for February 12, at the upcoming PlayStation event, with a release date penciled in for September 29. The player gets to take on the role of a Viking warrior called Jora, who can be either female or male. A blurry photo of the female Jora from an early build of Ragnarok has also been shared on imageboards (see below).
Full gameplay and story details can be found on this Reddit post (beware of spoilers). Jora will be able to explore the world of Assassin's Creed Ragnarok along with other players being able to join the wandering band thanks to the game's co-op capabilities. The RPG elements that were found in previous games, such as Assassin's Creed Odyssey, have apparently been developed further and expanded upon.