AMD Ryzen Threadripper 3990X details officially go live: "One Processor to Render Them All"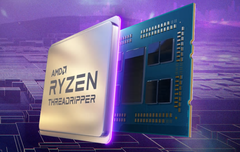 The official page for the AMD Ryzen Threadripper 3990X processor has gone live. Many of the details about the HEDT chip were already revealed at CES 2020 but now the powerful 64-core desktop CPU has its own home to boast of. AMD is advertising the Threadripper 3990X as the "One Processor to Render Them All".
The AMD Ryzen Threadripper 3990X chip will be launched on February 7 and the chipmaker has published a dedicated page for the astonishing processor. In a humorous riff of The Lord of the Rings, AMD has captioned the new HEDT beast with the line "One Processor to Render Them All". As the world's first 64-core desktop processor, it seems fair to say other processors will have to bow to the will of the Threadripper 3990X for the time being.
AMD has listed the full specifications of the Ryzen Threadripper 3990X on the product page, with highlights including up to 4.3 GHz boost clock rate, L1/L2/L3 caches of 4 MB, 32 MB, and 256 MB, respectively, and of course, those 64 cores supporting 128 threads of processing power. Quad-channel DDR4 system memory (3200 MHz) simply adds to the Threadripper 3990X's potential to be the only processor worthy of its own fellowship.
AMD has made sure the Threadripper 3990X can handle large workloads at lightning-fast speeds, with a grand total of 88 PCIe 4.0 lanes being available for utilization. The company has even posted a promo video demonstrating how 3rd Gen Threadrippers helped the special effects team behind Terminator: Dark Fate make their ideas become realized on the big screen. The Threadripper 3990X has already shown itself to be a beast of a processor, and it will be interesting to see if it truly can "Render Them All".