Vivendi gives up trying to snatch up Ubisoft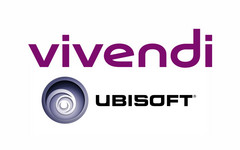 The French multimedia conglomerate Vivendi has given up with its attempt at a hostile takeover of Ubisoft. Vivendi has been buying shares in the latter company for several years now, giving the impression that the mass media giant intended to buy out the famous independent video-game publisher. However, it has now been reported that Vivendi has decided to sell all the firm's shares in Ubisoft.
Working For Notebookcheck
Are you a techie who knows how to write? Then join our Team! Especially English native speakers welcome!
Currently wanted:
News and Editorial Editor - Details here

Ubisoft is a renowned video-game publisher based in Rennes, France. The company was founded by the Guillemot brothers in 1986 (as Ubi Soft) and has been involved with the development and/or publication of an impressive list of games: Assassin's Creed, Far Cry, Rayman and the Tom Clancy-branded series, just to name a few. Vivendi started purchasing shares in the independent game publisher at a rapid rate; by the end of 2016 the media giant controlled 25.15% of the share capital and 22.92% of the voting rights. Ubisoft's chairman, Yves Guillemot, considered this behavior by Vivendi to be a sign of an attempt at a hostile takeover.
However, it has been reported that Vivendi will now sell all of its Ubisoft shares, valued at 2 billion Euros (~US$2.45 billion). These shares are expected to be bought up partially by various investors and partially through an Ubisoft buy-back. One of the new significant investors will be the Chinese conglomerate Tencent. A financial partnership with Tencent should give the French publisher an important entry into the extraordinarily lucrative Chinese video-game market, which is worth in excess of US$25 billion.