Memorable Microsoft Super Bowl commercial for the Xbox Adaptive Controller tops advertising review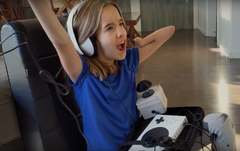 Microsoft has been receiving praise for the Xbox Adaptive Controller commercial that was shown this Super Bowl Sunday. The clip, which was called "We All Win," gives some children with disabilities the opportunity to speak about their love of video gaming. The Microsoft device helps users create customized controllers, giving the kids an opportunity to "crush my friends" as one pleased young gamer admits.
Apart from the obvious sporting event, Super Bowl Sunday has become the time when large brands challenge each other to exhibit fantastic, controversial, or moving commercials that remain with the viewers for a long time afterwards – and tech-related companies have frequently led the charge. This was exemplified by the classic "1984" Apple Macintosh clip, and this year both Amazon and Google can feel pleased for scoring field goals with their Super Bowl commercials. But the winning touchdown goes to Microsoft with "We All Win", which advertises its Xbox Adaptive Controller.
The extended version of the "We All Win" Super Bowl commercial highlights a group of young gamers who talk a little about themselves and how they enjoy playing games with their friends, regardless of the fact that using regular controllers can limit their gaming performance. However, it's plain to see the joy the children get out of the popular pastime, with one boy positively expressing that he "never thought it was unfair." The second half of the clip shows the girls and boys getting to grips with the Xbox Adaptive Controller, with a short adjustment time soon eclipsed with clear delight.
The Microsoft commercial has already been met with some considerable acclaim. The Kellogg School Super Bowl Advertising Review branded the "We All Win" film as this year's Super Bowl commercial champion and rated it with a grade A (Google and Amazon's efforts were also A-rated). People have been taken with the snapshots into the lives of the children that were selected to star in the clip, and it's a well-thought-out demonstration of how the Xbox Adaptive Controller allows for inclusive gaming. As one teary-eyed father proudly declares: "he's not different when he plays."