Microsoft teams up with Kroger to pilot two connected experience stores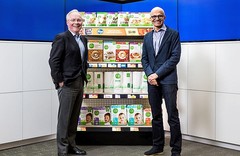 The partnership between Microsoft and Kroger, the largest grocery retailer in America comes as a joint effort to bring Retail as a Service to other retailers. The first result of this effort is the pair of connected experience stores that use Kroger Technology products powered by Microsoft Azure.
Earlier today, Microsoft and Kroger announced a collaboration that aims "to redefine the customer experience using Kroger Technology products powered by Microsoft Azure, the retailer's preferred cloud platform for Retail as a Service (RaaS)." Thanks to this partnership, Kroger will pilot a connected retail experience starting with two stores and — together with Microsoft — will also deliver a commercial RaaS product to the retail industry.
The Kroger Technology team has developed a Microsoft Azure-powered smart system that also uses connected IoT sensors and implemented this solution in two stores located in Monroe, Ohio and Redmond, Washington, near the headquarters of the two companies.
The list of new shopping experiences provided by the aforementioned RaaS solution includes EDGE™ Shelf (Enhanced Display for Grocery Environment) — a system that replaces paper tags with digital displays for all the information from prices and promotions to nutritional data, a pick-to-light productivity solution for store associates, and more.
Those who work in the retail industry, but also those who want to take a look at the not-so-distant future, can check out the first RaaS product offerings that come from Kroger and Microsoft at the NRF 2019: Retail's Big Show in New York, in the Microsoft booth (#3301). However, the easiest way to check out the two connected retail stores is to visit this page.