CES 2019 | Alibaba and Intel get together to develop athlete tracking technology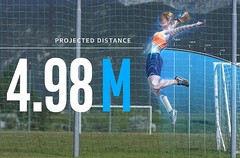 Intel and Alibaba are now working together on AI-driven athlete tracking solutions for the Olympic Games 2020 and beyond. The technology uses both existing and upcoming Intel hardware and the Alibaba Cloud infrastructure and will improve both the training process and the audience experience during the actual events.
Working For Notebookcheck
Are you a techie who knows how to write? Then join our Team! Especially English native speakers welcome!
Currently wanted:
News and Editorial Editor - Details here

Although it seems that nothing will come out of it this year, the collaboration between Intel and Alibaba promises to make next year's Olympic Games and other future events more interesting. Yesterday, the two companies announced at CES that they are working on AI-driven athlete tracking technology "that is aimed to be deployed at the Olympic Games 2020 and beyond."
"Optimized to run on Alibaba Cloud infrastructure, Intel developed a novel technology concept called 3D Athlete Tracking that uses AI to analyze video of athletes in ways that are expected to improve both the training process and has the potential to enhance the audience experience during actual competition," explained Intel's Data Center Group executive vice president and general manager, Navin Shenoy. He also added that this technology can be used both as an athlete training tool and as "a game-changer for the way fans experience the Games, creating an entirely new way for broadcasters to analyze, dissect and reexamine highlights during instant replays."
Alibaba Cloud and Intel hardware combine computer vision and AI deep learning algorithms to generate a 3D Mesh that can be used to extract detailed real-time biomechanical data. This solution only relies on multiple standard video sources, without using any special sensors or suits. After coaches and trainers analyze the aforementioned data, they can come up with new training enhancements.
This is not the first time that Intel and Alibaba are working together. The iconic Chinese brand has recently used Intel processor and memory technology to help power the 11.11 Alibaba Global Shopping Festival, an event that set a record US$30.8 billion of gross merchandise volume within 24 hours and left behind the retailer's Cyber Monday and Black Friday figures.