MIUI 11+ and Wi-Fi 6 for the Xiaomi Mi 10 and 10 Pro are confirmed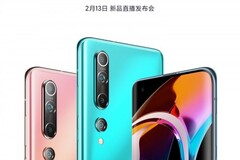 The Xiaomi Mi 10 and Mi 10 Pro are upcoming flagships likely to rock the Snapdragon 865 processor. They have been just been certified by the Wi-Fi Alliance, putting their imminent launch beyond doubt. This new approval also drops an interesting extra detail: these phones will run a heretofore-unknown version of their OEM's OS skin.
The Xiaomi Mi 10 series promises to be an effective line in flagship phone specs, 108MP cameras and LPDDR5 RAM included. Now, some up-to-date wireless connectivity is also definitely coming to these devices. The Wi-Fi Alliance has certified that both its base and Pro variants support the latest standard of this technology.
In other words, the phones (which have 2 different model numbers each: varying RAM or storage SKUs?) are both rated to deliver Wi-Fi 6 speeds and data-transfer volumes. However, the leaks do not stop there: the Alliance has also detected that Xiaomi appears to have prepared a new software update for the 2 premium phones.
It is called MIUI 11+, whereas the latest upgrade known to most of the OEM's devices out there is MIUI 11. Given that they retain the same version number, however, it is likely that the new Plus iteration is also based on Android 10. Any changes or evolutions in the newer OS skin remain to be seen at the Mi 10 launch event, which is scheduled for February 13, 2020.