Computex 2019 | Intel pushing new Wi-Fi 6 routers from various manufacturers to boost adoption rate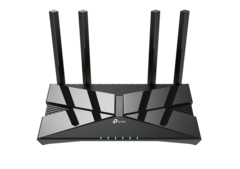 Want to be an early adopter of Wi-Fi 6? One of these four Intel-backed 802.11ax routers should do the trick. In truth, however, most home users will have no immediate reason to upgrade until more Wi-Fi 6 routers become available at cheaper prices.
To most consumers, wireless connectivity is simply a "set it and forget it" feature. If it works, then there is no reason to tweak or upgrade it. Nonetheless, computer manufacturers will do everything in their power to convince you otherwise that you should upgrade your wireless with the latest hardware for faster speeds and additional features.
Regardless of whether or not you want the best Wi-Fi technology, more and more Ultrabooks will begin carrying Wi-Fi 6 (or 802.11ax) modules that promise up to 3x faster speeds than Wi-Fi 5 (or 802.11ac) with 75 percent reduced latency and 4x the traffic capacity. Of course, users can still connect to their existing routers albeit without many of the performance features unique to Wi-Fi 6.
Intel wants to remedy this teaming up with various networking manufacturers like AVM, Edlmax, Elecom, Netgear, and TP-Link in order to push Wi-Fi 6-enabled routers. After all, it will do the user almost no good to have a Wi-Fi 6 client or laptop if the host or router is bottlenecked by Wi-Fi 5. Netgear in particular is already claiming more consistent performance when upgrading to its new Nighthawk AX4 router. Hopefully, less expensive versions will come to market soon as not every home will need a gaming-class Nighthawk or Archer router.