M1 iMac pressure: 3 great Windows AIOs that barely compete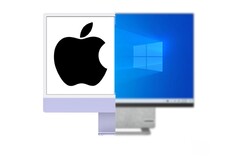 The choices and comments made on this list belong solely to the author.
1. Microsoft Surface Studio 2
This may be a controversial choice, but it definitely has graphics horsepower and unique use case. If you're a digital artist and want a canvas for drawing or 3D art, this may be worth considering, despite its age. The Surface Studio 2 is equipped with a geriatric Intel Core i7-7820HQ, which may not hold up against an 8-core M1, but it doesn't do as badly as you might expect for a four-year-old laptop part. The saving grace here is the Nvidia GeForce GTX 1070, which is still a killer graphics card for professional and gaming applications.
It would be a great option, if not for the exorbitant price it still demands. While it is officially discontinued, it can be found online for around US$3,499. Compared to Apple's price of US$1,499 for the base model iMac with M1, the only real scenario where the Surface studio should be considered is if you need a giant, 28-inch, 4500 x 3000 pixel, touch-enabled screen with great pen support.

Stay tuned to the rumours of the Microsoft Surface Studio 3. It may be a huge leap forward if it uses Intel's 12th-gen CPUs.

2. Lenovo Yoga AIO 7
The updated Lenovo Yoga AIO 7 runs on AMD's Ryzen 7 5800H and can be equipped with up to a Radeon RX 6600M, which should more than compete with the power of the Apple M1 found in the new iMac in terms of raw horsepower. The Yoga 7 even competes in terms of display quality, featuring a 27-inch, 4K effort, with 99% DCI-P3 and AdobeRGB coverage.
The display does fall short at only 350 nits of brightness, though. The lacklustre brightness is disappointing, since it's otherwise a great package - even including a 5 MP IR webcam and a pair of 5W JBL speakers. The Yoga 7 AIO is £1,699.99 on Lenovo UK (US$2,237.25), which is definitely not cheap, but it is fully equipped with Wi-Fi 6, Bluetooth 5 and a 1 TB M.2 PCIe SSD. An equivalent M1 iMac comes in at £2,049.00 (US$2,696.89) in the same market.
Maybe a laptop is the way to go instead? The MSI Creator 15 Professional has a bright OLED display with 100% DCI-P3 coverage and is available on Amazon.
3. The HP Envy 34-inch All-in-One
In terms of actual competition for Apple's latest iMac, the HP Envy 34 may be the best thing around. It commands a premium - starting at US$1,999 and topping out at an eye-watering US$4,900 - but that premium gets you quite the PC. The Envy 34 features a 21:9, 5120 x 2160 display with 500 nits brightness and 98% coverage of the DCI-P3 colour space. It also includes a 16 MP webcam with pixel-binning tech for crisp video calls, even in sub-optimal lighting.
The base configuration comes equipped with an Intel Core i5-11400 - a 6-core, 12-thread CPU that mostly keeps pace with the M1 in the iMac - and the computer can be configured with up to an 8-core, 16-thread i9-11900. You also have a choice of an Nvidia GeForce GTX 1650, RTX 3060, or, RTX 3080, all of which should give you great graphics performance.
Note that the sensible configuration for most people would probably be the Core i7 and RTX 3060 combo, coming in at around US$2,400 directly from HP USA, as of the time of writing.
My interest in tech started in high school, rooting and flashing my Motorola Defy, but I really fell down the rabbit hole when I realised I could overclock the i7 930 in my Gigabyte pre-built PC. This tinkering addiction eventually lead me to study product design in university. I think tech should improve the lives of the people using it, no matter the field. I like to read and write about laptops, smartphones, software and trends in technology.