Lockdown Mode in iOS 16: 4 brutal costs of going incognito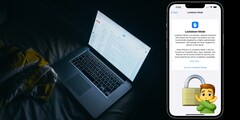 The choices and comments made on this list belong solely to the author.
1. Understanding Lockdown Mode
According to Apple, Lockdown Mode is intended for iPhone and Mac users who believe that they may fall victim to cyber threats organized by "private companies developing state-sponsored mercenary spyware".
Average users looking to enhance overall security on their iOS and macOS devices should be aware of the day-to-day disadvantages, including extensive limitations to Apple services, web browsing, and messaging.
Activating Lockdown Mode on devices deployed for enterprise use could present even more complications since wired connections and configuration profiles are almost entirely blacklisted.
2. Limitations to Apple services
While in Lockdown Mode, a number of apps, websites, and typical feature workflows are severely limited. In the Messages app, for example, all attachments except for images are blocked and link previews are disabled altogether.
Incoming service requests and invitations from Apple apps, including FaceTime, are blocked if the user has not yet sent the initiator a prior call or request. While browsing the web, using Safari or other WebKit-based browsers, JavaScript compilation and just-in-time (JIT) technologies are disabled on websites that the user has not whitelisted.
3. Cutting the cable and configuration profiles
4. Activating Lockdown Mode
To turn on Lockdown Mode on the iPhone or the iPad, visit the Settings app and scroll down to select the "Privacy and Security" menu. Scroll down once more to reveal the "Lockdown Mode" button beneath the header that says "SECURITY". Tap on the button and select "Turn On Lockdown Mode" beneath the disclaimer dialog.
To enable Lockdown Mode on a Mac that is running macOS Ventura, visit the "System Settings" app and then scroll down to select the button that reads "Privacy and Security". Scroll down to the bottom of the Privacy and Security menu and click "Turn On…" under the Lockdown Mode header.
Self-proclaimed coffee connoisseur and tech enthusiast Brahm Shank is captivated by the impact of consumer tech: "It's profoundly moving when people discover that the phone in their pocket or the tiny computer on their wrist has the power to enrich their lives in ways they never imagined." Apple, Inc. and its unique position at the intersection of technology and the creative arts, resonates deeply with Brahm and his passion for helping people unleash their potential using technology. Over the years, Brahm has held various podcasts - including famed technologist David Pogue of The New York Times on topics such as Big Tech and digital wellness.