4 Apple Watch apps that are actually worth it ↺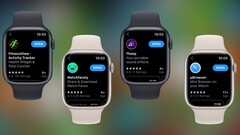 The choices and comments made on this list belong solely to the author.
1. FitnessView - Free
This all-in-one fitness companion app is a must-have even for users who do not workout on a regular basis. FitnessView provides a comprehensive look beyond the health information that is available to users in the Fitness app, by syncing HealthKit data as well. This means that users can quickly gather and log stats on a wider variety of measurements including hydration levels and caloric intake.
Additionally, this app also works wonderfully with third-party health monitoring devices such as blood glucose monitors or blood pressure sleeves that sync with the health app on your iPhone.
Pro(s)
- Gorgeous interface with legible data elements.
- Provides more info than Apple's built-in Health/Fitness apps.
- Consolidates fitness, health, and nutrition info into one app.

Con(s)

- Requires an iPhone companion app.
- Ability to add FitnessView elements as complications on Apple Watch requires an in-app purchase.
2. Watchfacely - Free
For many years now one of the most popular user-requested features for Apple Watch is a built-in watch face store/digital marketplace for discovering new watch faces from developers. Since there is no way to circumvent Apple's limitation of only offering first-party watch faces with limited stylistic freedom, the team at Watchfacely has developed a crowdsourced approach to solving this problem. With Watchfacely users can browse a number of remarkably crafted watch faces submitted by creatives in the community.
These creators take advantage of the functional and aesthetic elements that Apple does allow us to change including colors, backgrounds, & complications from other built-in apps. Perhaps the coolest part about this app is that it enables the user to install a watch face, and any complications from other apps that it requires, all without having to access a companion app on your iPhone.
Pro(s)
-Install watch faces and their required complications for free. No iPhone required.
-Wide compatibility for all devices that support watchOS 7 and later including Apple Watch Series 3
-Themed collections to leverage utility or artistic expression.
Con(s)
-Infrequently updated database of watch faces.
-Loading screen is painfully slow.
3. Thwip - Free
Remember when apps were just plain fun? Developer of Thwip, Rafael Conde, remembers. Thwip features a soundboard of nine built-in sound effects including the hip-hop air horn, the classic sting (Ba Dum Tss), cricket chirps and more.
This app is perfect for when users are ready to crack the perfect joke or otherwise lighten up the mood in any social situation. For the true Marvel nerd this app even features a special screen called "Thwip Mode" where users can wrap their Apple Watch around their hand and activate a web slinging sound effect. Need we say more?
Pro(s)
-Sounds are downloaded instead of streamed.
Con(s)
-Limited library of sounds.
4. µBrowser - US$0.99
This app solves one of the most blatant limitations of Apple Watch - the lack of a dedicated on-demand web browser. µBrowser takes advantage of Apple's built-in WebKit API introduced in watchOS 5 to deliver an (almost) full-fledged web browser on your wrist complete with bookmarks, history, and standalone entry fields for search and URLs.
Pro(s)
-Customizable bookmarks.
-Unobtrusive design.
-Indispensable tool for accessing info at a glance.

Con(s)
-Requires iPhone companion app to add bookmarks.
Self-proclaimed coffee connoisseur and tech enthusiast Brahm Shank is captivated by the impact of consumer tech: "It's profoundly moving when people discover that the phone in their pocket or the tiny computer on their wrist has the power to enrich their lives in ways they never imagined." Apple, Inc. and its unique position at the intersection of technology and the creative arts, resonates deeply with Brahm and his passion for helping people unleash their potential using technology. Over the years, Brahm has held various podcasts - including famed technologist David Pogue of The New York Times on topics such as Big Tech and digital wellness.