A broad range of choices and configurations definitely is part of the DNA of the Chinese PC manufacturer Lenovo. The new Lenovo Yoga Slim 7 laptops fit in with the theme of choice as well, as the many different design- and CPU/GPU-options are definitely a feature in this case.
Lenovo Yoga Slim 7 (14 inch): Intel Ice-Lake or AMD Ryzen 4000
As the smaller size, Lenovo offers a 14 inch screen. This more compact model has the most options available, starting with the chassis: It is completely made out of Aluminum, but there are different color choices: Dark grey, dark green or dark red. Also, the display lid is optionally coated with fabric – though this is only available in conjuncture with the Intel processors.
When it comes to the CPU, buyers have the choice between Intel Ice Lake chips like the Intel Core i7-1065G7 or AMD Ryzen 4000 CPUs. Accordingly, there are different GPU choices too, as the Intel chips naturally sport Iris GPUs, while the AMD CPUs include Radeon GPUs. Also, it is possible to buy the Intel model with a Nvidia GeForce MX GPU – which one exactly is not specified. As for RAM, there are up to 16 GB LPDDR4X memory.
Another difference between AMD and Intel version can be found when it comes to the LC display. While Lenovo will only offer FHD screens with the AMD model, the Yoga Slim 7 14 with Intel CPUs will be available with a brighter 4K UHD as an option.

What the different version mostly share are the connectivity options: The Yoga Slim 7 has two USB A ports, an SD card reader as well as HDMI in any case. Thunderbolt meanwhile remains exclusive for the Intel model. In all models, the Lenovo Yoga Slim 7 14 has a 60 Wh battery. Also, there are two Dolby Atmos speakers beside the keyboard and an Infrared webcam.
Lenovo Yoga Slim 7 (15 inch): Intel CPUs with optional Nvidia GeForce GTX
The bigger version of the Lenovo Yoga Slim 7 is in many ways like its smaller brother. It too has a metal chassis, which is only available in dark grey though. Also, this model has a numpad, different from the smaller Yoga 7 Slim.
Unlike the small model, the Yoga Slim 7 15 will be only available with unspecified Intel 10th Gen CPUs. On the bright side, there is an additional Nvidia GeForce GTX option (also unspecified).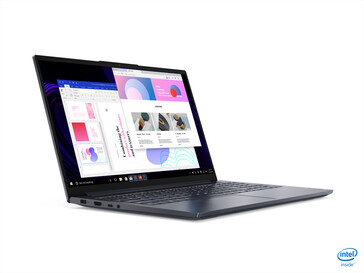 Compared with the smaller Yoga Slim 7, the sound system is stronger as well, as the bigger model features two additional speakers on the bottom of the system. For these advantages, it is a lot heavier with 1.6 to 1.9 kg compared with the more compact 14 inch Yoga (1.4 kg). Also, the Lenovo Yoga Slim 7 15 is only available with an FHD display, no higher res screen will be offered.

Availability & pricing of the Lenovo Yoga Slim 7 laptops
All three variations of the Lenovo Yoga Slim 7 are going to be available in April. The AMD model will be the most affordable, with a starting price of $850. For a Lenovo Yoga Slim 7 with an Intel CPU, no matter if 14 or 15 inch, a customer has to pay at least $1,210.

I was an ardent reader of Notebookcheck's laptop reviews even back in school. After writing reviews as a hobby, I then joined Notebookcheck in 2016 and have worked on device reviews and news articles ever since then. My personal interest lies more with laptops than smartphones, with business laptops being the most interesting category for me. Technology should make our lives and work easier and good laptops are an essential tool for that to happen. This is why laptop reviews are not just my work but are also my passion.