GeForce RTX 3050 Ti Laptop GPU stars with i7-11800H in likely upcoming Samsung Notebook 7 series refresh: Geekbench OpenCL run reveals GTX 1660 Ti-level performance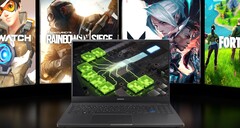 Samsung definitely seems to be preparing to unleash a new range of laptops onto the market, with a possible Notebook 7 Force refresh among them. We already reported about a Samsung system without a dGPU being tested on Geekbench with its Tiger Lake-H45 processor, and there was also news about another laptop from the South Korean manufacturer being benchmarked with a GeForce RTX 3050 Laptop GPU inside it. Now we have something of a semi-powerhouse with the Intel Core i7-11800H being matched with a GeForce RTX 3050 Ti Laptop GPU.
APISAK shared the OpenCL result for the Samsung 760XDA, which focuses more on the processing performance of the GPU part of a device. The listing records the GeForce RTX 3050 Ti Laptop GPU with 20 compute units, 1.03 GHz maximum frequency, and 4.00 GB VRAM. The final OpenCL score recorded was 60,559 points, which places the RTX 3050 Ti Laptop GPU neatly between the GeForce GTX 1660 Ti and GeForce GTX 1660 SUPER in Geekbench's OpenCL benchmark chart.
We already expected an Nvidia GeForce RTX 3050 Ti Laptop GPU SKU due to numerous leaks (such as appearing in an Asus TUF Dash F15 listing), but what is surprising is that Samsung appears to be preparing quite an impressive launch. The Samsung Notebook 7 Series certainly could do with an update; if you hop over to the company's US site you will see that it's no longer possible to browse through the series, which featured 8th Generation Intel chips from 2018. With a powerful Tiger Lake-H45 CPU and Ampere-based GeForce RTX 30 series GPU onboard, it looks like Samsung could be gunning for glory with a new gaming laptop.
My interest in technology began after I was presented with an Atari 800XL home computer in the mid-1980s. I especially enjoy writing about technological advances, compelling rumors, and intriguing tech-related leaks. I have a degree in International Relations and Strategic Studies and count my family, reading, writing, and travel as the main passions of my life. I have been with Notebookcheck since 2012.