Intel Core i7-11800H in possible Samsung Notebook 7 Force refresh produces passable Geekbench 5 scores that offer small gains over the AMD Ryzen 7 5800H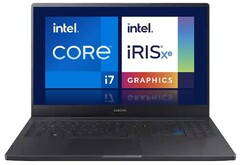 The Intel Core i7-11800H has popped up a couple of times in leaks and retailer listings, but since those initial appearances things have been quiet for the Tiger Lake-H45 processor until now. APISAK has shared some details of the upcoming 8-core, 16-thread chip, which had both its CPU part and iGPU part put to the test on Geekbench. Interestingly, the i7-11800H was tested in a system with motherboard information reading "SAMSUNG_NP_760XDA", which could indicate this is a new entry for the Samsung Notebook Series 7 range, possibly a refreshed Notebook 7 Force.
The Tiger Lake-H45 chip is paired with 32 GB RAM and is at a stepping level of 1 in this test run. The single-core score produced was a decent 1,537 points while the multi-core score was 8,393 points. These scores place the Intel Core i7-11800H at +18.00% (single) and +7.64% (multi) ahead of the median Geekbench 5 scores we have recorded for the previous-generation Intel Core i7-10875H. However, a much different picture emerges if we compare this theoretical maximum score for the i7-11800H against the highest scores we measured for the Comet Lake predecessor. The differences then become a still okay +12.11% for single but -2.63% for the multi-core mark.
As for the competition, the i7-11800H's results are +4.70% (single) and +5.44% (multi) against our median scores for the AMD Ryzen 7 5800H. Things look similar if we use the maximum scores we currently have for the Zen 3 processor: +3.85% (single) and +4.46% (multi) for the Tiger Lake-H45 representative. The Intel UHD Graphics iGPU in the Core i7-11800H was also tested, producing 8,339 points in OpenCL and revealing specs of 32 compute units and 1.45 GHz maximum frequency. It's an adequate introduction for the i7 processor, and it will be interesting to find out what the top-end Intel Core i9-11980HK can offer in terms of synthetic benchmark performance.
My interest in technology began after I was presented with an Atari 800XL home computer in the mid-1980s. I especially enjoy writing about technological advances, compelling rumors, and intriguing tech-related leaks. I have a degree in International Relations and Strategic Studies and count my family, reading, writing, and travel as the main passions of my life. I have been with Notebookcheck since 2012.