Introduction
What comes to mind when you hear the term "Chromebook?" You almost certainly did not think of gaming. However, Chromebooks have come a long way from their humble origins, and many options for gaming are now available on the plucky Chrome OS machines. Of course, gaming on a Chromebook depends largely on what hardware lies inside the chassis.
We recently reviewed the Acer Chromebook 715 and found a lot to like about it. It handles most tasks without breaking a sweat, mainly because of the relatively beefy internal specs. The Acer Chromebook 715 is one of the most powerful Chromebooks on the market, sporting an Intel Core i5-8350U, 8 GB of RAM, and an Intel UHD Graphics 620 integrated GPU.
These specs are run-of-the-mill in the world of Windows laptops, but considering most Chromebooks run on low-powered ARM CPUs or Intel Celeron-class processors, the Acer Chromebook 715 is a beast. That highlights the first caveat to keep in mind: Some Chromebooks are held back by their low-end hardware and won't be able to power through most games. Many Chromebooks use either ARM-based processors (which don't play nicely with some options we'll look into below) or low-end Intel X86 CPUs with weak iGPUs. However, mid-range U-series Intel CPUs are becoming more common options for Chromebooks. These are the powerhouses of the Chrome OS world, and they are the best candidates for gaming.
There are three ways to game in Chrome OS: web-based gaming, the Google Play Store, and Linux. We will look at each of these below.
Web-based games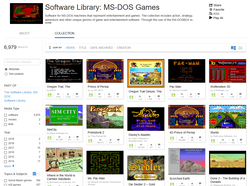 The first way to game on a Chromebook is also the oldest: web-based games. This is obviously not optimal, but some websites have well-made titles that are enjoyable for brief stints between meetings or classes. Some sites, like Archive.org, house the flagship titles of ages past such as the original Doom and Jazz Jackrabbit. These are all playable in-browser with little to no downloads needed.
The main advantage of website games is their pick-up-and-play nature. Most web games are quick to load and designed for brief play sessions. This leads to their primary disadvantage: Most web games are very shallow, amounting to little more than short, casual diversions that will leave most gamers feeling unsatisfied. Additionally, gaming on websites is a no-go in areas without Wi-Fi. Thankfully, there are other options that offer much better experiences.

Android and the Google Play Store
The second method of gaming on a Chromebook is through Google's implementation of Android. Android integration has been baked into Chrome OS for years, though the feature had its fair share of bugs when it first debuted. Most of those have been hammered out though. The newest version of Chrome OS (80.0.3987.162) supports the Google Play Store through an emulated instance of Android 9. As far as our tests can tell, the entire Android catalog is now supported, which is great news for gamers.
Many Android games support keyboard and mouse input, which feels better on a laptop. Most also support external gamepads. Android gaming also opens the door to console emulation. Even the least powerful Chromebooks should be able to emulate older consoles (e.g.: the SNES and Sega Mega Drive) without much trouble. Other high-end titles, like Asphalt 9 and PUBG, are excellent games to try out, though different hardware will render different experiences.

The Android gaming experience has some inconsistencies. First of all, some Android titles do not support control schemes other than touchscreen input, which is unpleasant with a Chromebook. Secondly, games that do support keyboard or mouse input don't always have options for key remapping. Sonic CD, for example, uses the arrow keys for movement and the "J" and "K" keys for accepting options/jumping and cancel, respectively. Users may find themselves pecking the keyboard to see which keys are actually used in a game. Finally, while most bugs have been squashed, there are still a few hiccups to be found. Game crashes and glitches still happen more often than on standard Android devices.

On the whole, the experience is enjoyable, but your mileage may vary. Keep in mind that Android games are designed for Android smartphones with touchscreens and may have some quirks as a result.

Linux and Steam
Finally, integrated Linux support opens Chromebooks up to modern PC titles. Officially introduced in 2019, Chrome OS's native Linux system has been under heavy development over the past year. The feature is still in Beta, and some hardware (like webcams) doesn't work in Linux yet. But GPU acceleration does, which makes gaming possible. If a title is compatible with Debian Linux, it can probably run on a Chromebook.
There are a few hoops to jump through to get everything set up. The Linux feature of Chrome OS has to be enabled through the system's settings. Once the Linux system is installed and configured, users will only have access to the terminal. There is no dedicated app store.
Linux in Chrome OS is based on Debian and had access to Debian-compatible repositories, which can be restrictive. However, third-party repositories (e.g. "non-free" repositories) and .deb files are supported. That means Steam is an option. To install Steam, download the .deb installer file from the Steam website, right-click it, and choose to install it with Linux; the process is fairly plug-and-play.

Once Steam is installed, users can log in and start downloading Linux-compatible games from their library. Keep in mind that the Linux versions of games may perform differently than their Windows counterparts, due mainly to Linux's lack of DirectX support. However, the Intel UHD Graphics 620 iGPU is capable of handling older or less-demanding titles.

Casual games like Stardew Valley run perfectly on the Acer Chromebook 715 and should be buttery smooth on most other X86-based Chromebooks. Older flagship titles like Half-Life 2 don't cause any problems for our test machine. Again, your mileage may vary.
We should point out that we have not yet tested Linux on ARM-based Chromebooks. Chrome OS itself is based on Linux, and ARM-based Chromebooks have been able to dual-boot Linux or run a distro within a crouton shell for years. However, without hands-on experience, we cannot speak to the efficacy of running Steam (or similar software) on an ARM-based Chromebook.
There is a major downside to gaming in Linux and Steam: storage space. Because of their cloud-targeted design, Chromebooks still ship with minuscule hard drives. Even most high-end Chromebooks ship with either 64 or 128 GB of slow eMMC storage. This will quickly fill up after installing a handful of games. Using an external storage drive to house downloaded games is a wise move here.

Overall, if the game can run on a Linux machine with equivalent specifications, it should run similarly on a Chromebook. Expectations should be tempered though; even well-optimized titles like DOOM (2016) are unplayable on Chromebooks due to the limited hardware. Still, there are hundreds, if not thousands, of enjoyable titles available on Steam and Linux.

Conclusion
The modern Chromebook is a far cry better than its limited ancestors. Every year, Google rolls out new and exciting features for the devices, rounding out holes that consumers have complained about. While gaming on a Chromebook is still nowhere near as fully featured as gaming on a traditional Windows machine, it is still viable. Chromebooks have long been seen as interesting novelties, but features like Android and Linux support have fought to shatter that stereotype. The wide array of gaming options is a testament to the continual evolution of Chrome OS.

I've been a computer geek my entire life. After graduating college with a degree in Mathematics, I worked in finance and banking a few years before taking a job as a database administrator. I started working with Notebookcheck in October of 2016 and have enjoyed writing news and reviews. I've also written for other outlets including UltrabookReview and GeeksWorldWide, focusing on consumer guidance and video gaming. My areas of interest include the business side of technology, retro gaming, Linux, and innovative gadgets. When I'm not writing on electronics or tinkering with a device, I'm either outside with my family, enjoying a decade-old video game, or playing drums or piano.