Samsung Galaxy Chromebook convertible brings beauty to Chrome OS, now shipping with 4K AMOLED and Intel 10th gen Core i5 for $999 USD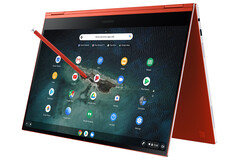 As promised last week, users can now find the 13.3-inch Chromebook convertible in stores and online. The ultra-thin system should cater better to travelers and remote clients when compared to lower-end Chromebook alternatives.
Unveiled earlier this year at CES, Samsung and resellers like Best Buy are now shipping the Galaxy Chromebook to customers in North America. The 13.3-inch convertible is notable for having a 4K UHD AMOLED panel, Comet Lake-U Core i5-10210U CPU and an integrated pen recess all in a super-sleek 9.9 mm-thick chassis design. In comparison, most other Chromebooks are visual eyesores powered by slower Celeron or Pentium processors.
The biggest drawback is price; expect to put down $1000 for the fancy Samsung to be about twice as much as the average Chromebook. You'll have to really value the ultra-slim form factor and portability of the machine to make it worthwhile. Fortunately, Chrome OS has evolved quite a bit over the years to include Android Play Store compatibility which will help boost the longevity and functionality of the hardware.
Check out the official product page for the Galaxy Chromebook here. If the high-end convertible is a bit over your price range, Samsung offers cheaper XE500 and XE300 options as well.