Though AMD announced the new Zen 3+ Ryzen 6000 APUs and Radeon RX 6000S series mobile GPUs at CES 2022, there has been no indication of an official launch time yet. However, devices sporting the new processors are steadily making their way to benchmarking sites indicating that we may not have to wait for long.
We previously reported about early benchmarks from an Acer Nitro 5 laptop featuring the Ryzen 7 6800H. Now, we get to see the Asus ROG Zephyrus 14 powered by the Ryzen 9 6900HS and the Radeon RX 6800S make its way to Geekbench and PugetBench.
The refreshed Asus ROG Zephyrus G14 was first announced at CES 2022. This laptop is probably one of the very few unique ones we will see this year featuring both the Ryzen 9 6900HS and the 105 W Radeon RX 6800S. The Zephyrus G14 is an AMD Advantage laptop featuring a dedicated MUX switch to allow for easy transitioning between the RDNA 2-based Radeon 680M iGPU and the RX 6800S.
The AMD Ryzen 9 6900HS is an 8C/16T 35 W APU with a base clock of 3.3 GHz and maximum boost of 5 GHz. The Ryzen 9 6900HS in the Zephyrus G14 seems to have scored 1,571 and 9,751 points in Geekbench single and multi-core tests, respectively. This puts it about 6.2% and 24.4% faster correspondingly in comparison with an average Ryzen 9 5900HS.
The Zephyrus G14 also made its way to PugetBench's Photoshop and Premiere Pro benchmarks. In PugetBench for Photoshop, the laptop managed an overall score of 1,022 while it scored 550 points in the Premiere Pro Standard test. The Zephyrus G14's Photoshop score is about 8% faster than the one seen with the ROG Flow Z13 powered by the Intel Core i9-12900H and the Nvidia GeForce RTX 3080 Laptop GPU despite power constraints. A Premiere Pro Standard score for the ROG Flow Z13 with RTX 3080 is not available in the PugetBench database at the time of writing.
While AMD Rembrandt APUs cannot be expected to really topple Alder Lake-H's raw performance, they do have the potential to show good power efficiency improvements compared to their Zen 3 predecessors. We will know more once these laptops end up in our labs.
Note: Article has been updated with screenshot from PugetBench showing a ROG Flow Z13 with an RTX 3080. It is possible that the ROG Flow Z13 is connected to an eGPU.
Buy the Asus ROG Zephyrus G14 with Ryzen 9 5900HS and RTX 3060 on Amazon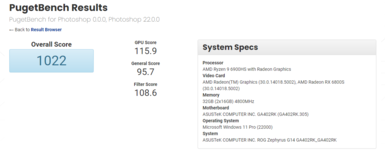 Though a cell and molecular biologist by training, I have been drawn towards computers from a very young age ever since I got my first PC in 1998. My passion for technology grew quite exponentially with the times, and it has been an incredible experience from being a much solicited source for tech advice and troubleshooting among family and friends to joining Notebookcheck in 2017 as a professional tech journalist. Now, I am a Lead Editor at Notebookcheck covering news and reviews encompassing a wide gamut of the technology landscape for Indian and global audiences. When I am not hunting for the next big story or taking complex measurements for reviews, you can find me unwinding to a nice read, listening to some soulful music, or trying out a new game.