While we have been seeing performance charts of the Intel Alder Lake-H processors so far, devices powered by new AMD Rembrandt Ryzen 6000 APUs are yet to become widely available. However, the first review of an AMD Ryzen 6000 laptop was briefly leaked online thanks to which we can get a good estimation of the performance of the Ryzen 7 6800H.
These numbers are available courtesy of a review published by Spanish site Professional Review, which now seems to have been taken down. The site had access to an Acer Nitro 5 laptop powered by the AMD Ryzen 7 6800H and a 140 W Nvidia GeForce RTX 3060 Laptop GPU. In tune with platform requirements, the Acer Nitro 5 is also fitted with 16 GB of dual channel DDR5-4800 RAM. Other specs include a 1440p 165 Hz display, USB4 Gen2 with DisplayPort 1.4, and HDMI 2.1-out.
Only Cinebench numbers are available at the moment. Nevertheless, they should help in getting a fairly good idea about the performance of the Ryzen 7 6800H. In Cinebench R23 single, the Ryzen 7 6800H seems to have scored 1,496 points making it on par with the average Ryzen 9 5900HX (+2%) and slightly faster than the average Ryzen 7 5800H (+6%).
Cinebench R23 multi sees the 8C/16T Ryzen 7 6800H scoring 13,136 points. This makes it about 4% faster than an average Ryzen 9 5900HX and nearly 10% faster than an average Ryzen 7 5800H. However, Intel will have an advantage here in terms of raw performance. While we are still yet to get official benchmarking data for the Core i7-12700H, an exclusive leak from an MSI pre-sample that we had reported last November puts the Intel Alder Lake-H part at a significant 41% lead over the Ryzen 7 6800H.
Coming to Cinebench R20 figures, Professional Review's testing gives the new Ryzen 7 6800H 582 points in the single-core test and 5,069 points in the multi-core benchmark. Once again, we see the Ryzen 7 6800H to be a little ahead of the average Ryzen 9 5900HX (+1.7%) and somewhat faster than the average Ryzen 7 5800H (+6%). The Core i7-12700H pre-sample is a good 18.3% faster here.
Cinebench R20 multi shows leads similar to Cinebench R23 — 4.6% and 9.5% faster than the Ryzen 9 5900HX and the Ryzen 7 5800H, respectively. Needless to say, the Core i7-12700H pre-sample offers massive 41% gains in multi-core.
The numbers aren't really surprising to be honest, since Rembrandt Zen 3+ is essentially a tweaked Cezanne Zen 3 built on a more efficient 6 nm process. But it is good to see that the Ryzen 7 6800H can get ahead of a flagship Cezanne APU even if by thin margins. Alder Lake definitely has the core count advantage this time around, but single-core numbers on the Intel camp seem to be quite impressive as well.
Interestingly, the review shows the Nitro 5 to have just 2.5 hours of battery backup while testing at 40% brightness. We are not about the exact test conditions here given that the original review seems to have been taken down now. But we definitely expect better battery run times given the more efficient process and other architectural improvements that AMD had alluded to during the CES 2022 keynote.
That being said, we will still need numbers from more laptops to come to a definite conclusion as better cooling solutions can still bring down the deltas even further. The performance numbers from the Ryzen 9 series will be interesting to watch out for as well. We haven't practically seen any Ryzen 9 5980HX laptop being made available so far, but hopefully that situation improves with the Ryzen 9 series this year.
We also do not know how the new 12-CU RDNA 2 iGPU in the Ryzen 7 6800H performs since that appears to have not been tested yet. But it is now becoming increasingly clear that AMD can only strike back against Alder Lake-H with Phoenix-H or Raphael-H in this generation while Rembrandt acts as a stop-gap measure.
Buy the Razer Blade 14 with Ryzen 9 5900HX and RTX 3070 on Amazon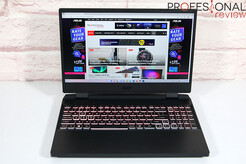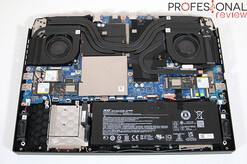 Though a cell and molecular biologist by training, I have been drawn towards computers from a very young age ever since I got my first PC in 1998. My passion for technology grew quite exponentially with the times, and it has been an incredible experience from being a much solicited source for tech advice and troubleshooting among family and friends to joining Notebookcheck in 2017 as a professional tech journalist. Now, I am a Lead Editor at Notebookcheck covering news and reviews encompassing a wide gamut of the technology landscape for Indian and global audiences. When I am not hunting for the next big story or taking complex measurements for reviews, you can find me unwinding to a nice read, listening to some soulful music, or trying out a new game.