Apple iPhone Series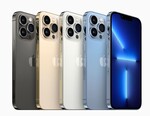 Processor:
Apple Apple A-Series A13 Bionic, Apple Apple A-Series A14, Apple Apple A-Series A15
Graphics Adapter:
Apple A13 Bionic GPU, Apple A14 Bionic GPU, Apple A15 GPU 4-Core, Apple A15 GPU 5-Core
Display:
5.40 inch, 6.10 inch, 6.50 inch, 6.70 inch
Weight:
0.14kg, 0.162kg, 0.173kg, 0.226kg, 0.238kg
Price:
799, 876, 899, 1249 euro
price: 70%, performance: 106%, features: 88%, display: 91%, mobility: 107%, workmanship: 89%, ergonomy: 90%, emissions: 95%
Apple iPhone 11 Pro Max
The Apple iPhone 11 Pro Max is the most powerful and recent smartphone released by Apple. It has a transformative triple-camera system, which adds lots of capability without complexity, and an unprecedented leap in battery life. Besides that, it has a mind-blowing chip that doubles down on machine learning and pushes the boundaries of what a smartphone can do. Users of the iPhone 11 Pro Max will meet the first triple-camera system to combine cutting-edge technology with the legendary simplicity of the iPhone. They can capture up to 4x more scene. They can get beautiful images in drastically lower light and shoot the highest-quality video in a smartphone, then edit with the same tools they love for photos. All these are achieved by the ultra-wide 12 MP sensor with f/2.4 aperture, a wide 12 MP sensor with f/1.8 aperture and a telephoto 12 MP sensor with a larger f/2.0 aperture. The iPhone 11 Pro lets users capture videos that are beautifully true to life, with greater detail and smoother motion. Epic processing power means it can shoot 4K video with extended dynamic range and cinematic video stabilization, all at 60 fps. Users get more creative control too, with 4x more scene and powerful new editing tools to play with. Next-generation Smart HDR uses advanced algorithms to finesse highlight and shadow detail in the image. And now it leverages machine learning to recognize faces in the shot and intelligently relight them. That means iPhone 11 Pro can automatically fine-tune detail in both the subject and the background. As for the display, the Super Retina XDR display boasts not one but two new record levels of brightness and understands when to use them. It hits up to 800 nits when users are out in the sun, which is great for shooting and making selects on the go and up to 1,200 nits when users are viewing extreme dynamic range content. It's like having a Pro Display XDR on the iPhone. Apple custom-built the A13 Bionic with a focus on machine learning across the entire chip, enabling experiences that simply aren't found on any other smartphone. The 8-core, Apple-designed Neural Engine is up to 20 percent faster and uses up to 15 percent less power. It's a driving force behind the triple-camera system, Face ID, AR apps, and more. The Apple-designed GPU is up to 20 percent faster and uses up to 40 percent less power. The iPhone 11 Pro Max is designed to take a spill and a splash. It has the toughest glass in a smartphone where front glass and back glass is strengthened through a dual ion-exchange process. It also has an IP68 rating, which is water-resistant to a depth of 4 metres for up to 30 minutes. With U1 and iOS 13, users can point their iPhone towards someone else's, and AirDrop will prioritize that device so they can share files faster. As a conclusion, the Apple iPhone 11 Pro Max is a high performance and premium device which not only looks great but performs well. It is the best iPhone so far in the market. It definitely packs a bunch of new features which are good for power users who do a lot of work on their smartphone. Hands-on article by Jagadisa Rajarathnam
Specifications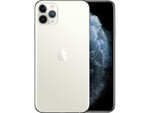 Notebook:
Apple iPhone 11 Pro Max
Processor:
Apple Apple A-Series A13 Bionic
Graphics Adapter:
Apple A13 Bionic GPU
Display:
6.50 inch, 2.16:1, 2688 x 1242 pixels
Weight:
0.226kg
Price:
1249 euro
Links:
Apple homepage
Pricecompare
Average Score:
Average of 124 scores (from 228 reviews)
Foreign Reviews
Apple iPhone 12
One of the highest-rated phones on the market at the moment has to be the Apple iPhone 12. In comparison to its predecessors, there are a lot of new things in the iPhone 12. Firstly, Apple has built in the usual upgrades, like a faster processor and an improved camera. While this is definitely great, it is obviously something that was expected from Apple. In addition to all of that, there is a new design, a new OLED screen, 5G support, and an entirely new charging and accessory ecosystem with MagSafe.
In terms of its design, the Apple iPhone 12 is much smaller and lighter compared to the iPhone 11. The phone also has flat sides and a flat screen. Ever since the iPhone 6, the company has incorporated curved edges in its designs, so the flat sides in this latest iPhone 12 feel absolutely new. Despite all of those flat edges, the seams and the corners are bevelled just enough to make the phone comfortable to hold. Apart from that, it should be noted that the aluminium rails on the iPhone 12 have a matte finish.
The front of the iPhone 12 is a glass-ceramic hybrid which Apple has branded "Ceramic Shield." They basically put ceramic crystals within the glass itself to improve the drop resistance. Apple has added that this hybrid is four times more resistant to breaking from drops compared to having just the glass. As far as the screen is concerned, Apple has switched over to an OLED screen in this model, which is one of the reasons for its smaller size. Apple has also increased the pixel count in this device to 1170 x 2532, which is definitely a great upgrade. While there are various Android phones at this price point with a refresh rate of 90Hz or 120Hz, the iPhone 12 still manages to hold on to its standard 60Hz refresh rate.
Apart from everything mentioned above, MagSafe is definitely a unique feature of this phone. It is essentially an entire system for attaching things to the back of the iPhone via magnets, which includes wireless chargers, cases, car mounts, wallets and other things like gimbals. In terms of the camera, the most important changes are not in the sensors or the lenses, except for the main wide-angle camera going from an ƒ/1.8 aperture to ƒ/1.6 in order to allow it to be slightly lighter. Instead, the bigger differences lie in the software and the capabilities of the new A14 Bionic processor that runs everything on the phone. It is worth noting that the A14 has unlocked night mode (even portrait) for all of the cameras on the iPhone 12, including the selfie camera. Overall, the iPhone 12 has definitely made an impact in the iPhone family and deserves exploration.
Hands-on article by Jagadisa Rajarathnam
Specifications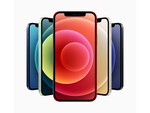 Notebook:
Apple iPhone 12
Processor:
Apple Apple A-Series A14
Graphics Adapter:
Apple A14 Bionic GPU
Display:
6.10 inch, 19:9, 2532 x 1170 pixels
Weight:
0.162kg
Price:
876 euro
Links:
Apple homepage
Pricecompare
Average Score:
Average of 196 scores (from 320 reviews)
Foreign Reviews
Apple iPhone 13
Apple iPhone 13 is one of the 15th generation iPhone series smartphones, and it is also the successor model of iPhone 12. This time, Apple's main focus is on battery and camera upgrades, and expansion of regions that support 5G services. In appearance, the lens is changed to a diagonal design. Although the fringe design is not completely eliminated, it has been reduced by 20% compared to the previous generation. The iPhone 13 maintains a dual-lens configuration, a 12-megapixel dual camera system: ultra-wide-angle camera (ƒ/2.4 aperture) and wide-angle main lens ƒ/1.6 aperture, 2x optical zoom reduction, up to 5x digital zoom. The entire iPhone 13 series also supports the new Photographic Styles in the camera mode, allowing users to adjust high-contrast, high-saturation, warm, cold and other style filters, and can customize the adjustment parameters.
iPhone 13 screen is beautiful. The screen resolution reaches the SuperRetinaXDR level, the screen brightness is 800 nits, an increase of 28%, and the highest peak brightness of HDR can reach 1200 nits. Users will have no problem using it under a bright environment. The video recording function has evolved. The iPhone 13 series supports Cinematic Mode. As long as you start recording, the Cinematic Mode will automatically adjust the focus on the subject and create a nice depth of field around the subject. The iPhone 13 series cinematic mode turned things that only professionals can do. The entire iPhone 13 series is equipped with a 5nm process A15 Bionic bionic chip processor, with 15 billion transistors, 2 performance cores and 4 energy-saving cores. The speed is 50% faster. According to Apple's official statement, it is currently the fastest smartphone chip. The new 16-core neural network engine brings 15.8 trillion operations per second. With the chip upgrade, all iPhone 13 series support 4K 60fps recording. In the past, the iPhone 12/12 mini only had 4K 30fps.
The entry-level iPhone 13 provides three storage capacity specifications, including 128GB, 256GB, 512GB three specifications. iPhone 13 has five colors which are red, starlight, midnight, blue, and pink. The iPhone 13 series will support the WiFi 6E standard. WiFi 6E is an enhanced version of WiFi 6, with faster speed and lower latency, providing better network guarantee for future technologies such as AR/VR and 8K streaming. The battery life of the iPhone 13 has increased by 15%, which is very good. In general, Apple iPhone 13 is a decent flagship smartphone which features a great camera and high performance hardwares. It is a worthy upgrade for users who has the high budget and looking for a smartphone with top notch camera and higher performing hardwares.
Specifications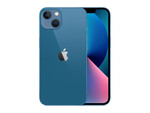 Notebook:
Apple iPhone 13
Processor:
Apple Apple A-Series A15
Graphics Adapter:
Apple A15 GPU 4-Core
Display:
6.10 inch, 19:9, 2532 x 1170 pixels
Weight:
0.173kg
Price:
899 euro
Links:
Apple homepage
Pricecompare
Average Score:
Average of 150 scores (from 242 reviews)
Foreign Reviews
Apple iPhone 13 mini
Apple iPhone 13 mini is the smallest iPhone released by Apple. The size of the iPhone 13 mini is still the same as the previous generation. iPhone 13 Mini is 5.4 inches in size, but has a larger battery inside, and the antenna components are made of recycled plastic bottles. Apple claims that the iPhone 13 mini has all the functions of the iPhone 13, but is stuffed into a smaller body. Compared to the previous generation, the Apple iPhone 13 mini underwent a couple changes. The front panel still uses a ceramic shield to achieve an IP68 protection level, but the screen brightness is increased by 28% and the HDR peak brightness is 1200 nits. Furthermore, it supports Dolby Vision, HDR10 and HLG, and the front notch on the screen is reduced by 20%. The improvement of screen energy efficiency is due to Apple's customized OLED technology. As for hardware, the Apple iPhone 13 mini has a six-core A15 mobile chipset which uses a 5nm process technology. It has 2 high-performance CPU cores and 4 energy-saving CPU cores. It also has a new encoder which has double the system cache and improves the graphics performance by 30% compared to its predecessor. The entry-level storage of iPhone 13 mini is 128GB and the higher storage level of 512GB option is also available.
The Apple iPhone 13 mini is equipped with sensor shift stabilization and a newly customized 12-megapixel ultra-wide-angle camera. The amount of light collected by the new camera has increased by 47%. The video portrait mode has a new selective focus function. The user can tap to switch focus at any time, and then tap again to lock the focus. The movie effect mode also supports HDR, thanks to the powerful performance support of A15 Bionic. The popular MagSafe magnetic charging function has also been retained, and the new MagSafe wallet also supports the Find My function. Apple particularly emphasized the battery life improvement of the iPhone 13 mini, which is inseparable from the advanced technology support of the A15 Bionic chip. The iPhone 13 Mini lasts 90 minutes longer than the iPhone 12. The new iPhone will provide 5G support for more frequency bands in more places and at faster speeds. Through cooperation with operators around the world, iPhone 13 can further improve call quality, performance, signal coverage, and battery life. The intelligent data mode can fall back from 5G to 4G network when it is not necessary. As a conclusion, the Apple iPhone 13 mini packs a whole lot of features in a small build, making it suitable for users who are looking for a smartphone that fits in a single palm. It is also pleasant looking and high in performance, which makes it an all-rounder suitable for work and also entertainment.
Specifications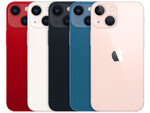 Notebook:
Apple iPhone 13 mini
Processor:
Apple Apple A-Series A15
Graphics Adapter:
Apple A15 GPU 4-Core
Display:
5.40 inch, 19.5:9, 2340 x 1080 pixels
Weight:
0.14kg
Price:
799 euro
Links:
Apple homepage
Pricecompare
Average Score:
Average of 84 scores (from 150 reviews)
Foreign Reviews
Apple iPhone 13 Pro Max
Apple iPhone 13 Pro Max is the highest hardware specification iPhone among the iPhone 13 series. The iPhone Pro Max model always provided additional features, such as image stabilization or a larger zoom lens. There are still three raised camera lenses in the case of this phone, but the physical dimensions of the case and lens are larger than before. The design of iPhone 13 Pro Max is almost the same as that of iPhone 12 Pro Max from 2020. There will be some differences when users look closely. At the rear, users can still get four frosted glass design colors which are graphite, gold, silver and the new 2021 Sierra blue. On the front, the biggest change is that the notch through the display is now narrower. The notch is still equipped with a series of sensors (including face recognition sign ) in addition to the front-facing camera. The new design does provide more space for a full-screen experience.
Apple's ProMotion technology allows the display to automatically adjust the refresh rate to match the content on the screen. It starts at 10Hz and goes up to 120Hz. However, this is not only conducive to smooth playback, but also means longer battery life potential because the software can determine how much power the screen needs to complete the task at hand and adjust accordingly. These efficiencies can make a big difference. Apple claims that the iPhone 13 Pro Max can now provide up to 28 hours of video playback on a single charge. MagSafe Power Support allows wireless charging or connection of various accessories, such as card wallets. The iPhone 13 Pro Max is equipped with A15 Bionic. It is the company's fastest processor to date-this is a typical feature of Apple's yearly updates although the improvements to the A12 chip in the 14 Pro Max are not as dramatic as users might think. The benchmark test results show that it is about 15% faster than the previous generation product. The storage size can be expanded to 1TB. This move is clearly aimed at photographers who are keen to take advantage of new recording features, such as the unreleased ProRes (Apple's high-quality video compression format). A one-minute shot requires about 6GB of space, which will definitely fill up storage space quickly.
As for the camera, there are three main lens rear surfaces, next to a laser radar sensor and a flash device. As before, all three sensors provide a resolution of 12 megapixels, but the difference from the iPhone 12 Pro Max is the introduction of a new lens and a new macro shooting mode. Ultra-wide-angle, standard wide-angle, and telephoto zoom can provide a total of 6x zoom. In conclusion, the Apple iPhone 13 Pro Max featured many key upgrades which users will definitely notice when they upgrade. Apple's iPhone 13 Pro Max camera is the main part of the experience, especially the very beautiful and smooth 6.7-inch display. It is more suitable for users who require a high performing camera on their smartphone on the go.
Specifications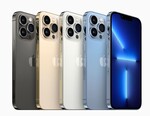 Notebook:
Apple iPhone 13 Pro Max
Processor:
Apple Apple A-Series A15
Graphics Adapter:
Apple A15 GPU 5-Core
Display:
6.70 inch, 19.5:9, 2778 x 1284 pixels
Weight:
0.238kg
Price:
1249 euro
Links:
Apple homepage
Pricecompare
Average Score:
Average of 110 scores (from 232 reviews)