Apple M1 hits new heights by surmounting PassMark's desktop and laptop CPU single-thread performance charts ahead of the Intel Core i9-11900F and AMD Ryzen 9 5980HS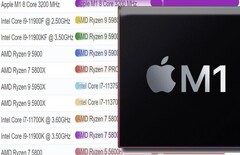 Not long ago we reported about how the Apple M1 chip was nipping at the heels of the Rocket Lake champion processor, the Intel Core i9-11900K, but still had to compete against a whole raft of other 11th Gen SKUs coming from Team Blue. However, it seems mighty parts like the Intel Core i9-11900F and i9-11900KF have been unable to shift the M1 processor from its lofty position. In the meantime, additional sample testing for the i9-11900K, which previously had a "high" margin for error tagged with its single-thread performance score but is now listed as "low", has resulted in the Rocket Lake chip dropping from first place to ninth place.
It is quite a blow for the Intel Core i9-11900K, which now sits below the i7-11700K and the top-end Ryzen 5000 parts such as the Ryzen 9 5900X and Ryzen 7 5800X. But it's not just Rocket Lake that has suffered from the single-thread performance capabilities of the Apple M1 on this particular benchmark, as the well-received Zen 3 Cezanne mobile chips from AMD have also had to yield to the Apple Silicon in the laptop charts. Surprisingly, it appears the M1 SoC actually has a tighter hold on the laptop chart at the moment, as it leads the AMD Ryzen 9 5980HS by +7.88% in PassMark's single-thread testing measured at MOps/Sec. Over in the desktop chart, the i9-11900F's score leaves the Apple chip with only a +1.26% advantage.
It is a very specific result: The 8-core Apple M1 Silicon with a clock speed of 3.2 GHz and typical TDP of 15.1 W is the fastest desktop and laptop processor in the single-thread benchmark. Its average CPU Mark, which is formed from numerous test results, stands at a middling 14,872 points whereas the AMD Ryzen 5 3600, for example, has 17,862 points here. However, to lead both the single-thread performance charts for desktop and laptop CPUs, ahead of the best from Rocket Lake and Ryzen 5000, is still no mean feat and it will leave Intel and AMD anxiously waiting to see what Apple produces with the M1X or M2 successor.
My interest in technology began after I was presented with an Atari 800XL home computer in the mid-1980s. I especially enjoy writing about technological advances, compelling rumors, and intriguing tech-related leaks. I have a degree in International Relations and Strategic Studies and count my family, reading, writing, and travel as the main passions of my life. I have been with Notebookcheck since 2012.