Unparalleled Apple Silicon performance: TechTuber calculates 20-core M1Z outscores a 64-core Ryzen Threadripper 3990X while M1P with 128-core iGPU beats a GeForce RTX 3080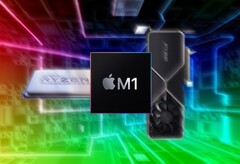 YouTube channel iCave ("iCave Dave" - David Eden-Sangwell) has offered up an interesting take on how future M1-series Apple Silicon could perform, specifically with the Geekbench synthetic benchmark. Fellow YouTuber Luke Miani already offered his predictions of what the rumored Apple M1X might manage, and now it has been the turn of two more SKUs that have been labeled "M1Z" and "M1P" (iCave guesses "P" could be used for "Pro") to have their performances guessed at. Much of the information in regard to core count has been taken from a Bloomberg report published in December that detailed sources claiming Cupertino was working on numerous high-powered configurations of Apple Silicon.
One of those Apple Silicon configurations was allegedly a chip with a 20-core CPU part and 32-core iGPU, which could end up being the M1Z SoC. The CPU would be made up of 16 high-performance Firestorm cores and four efficient Icestorm cores. According to the calculations revealed in the iCave video, this particular chip could potentially manage a Geekbench multi-core score of 25,859 points and a Metal (graphics) score of 68,246 points. The "Apple M1Z" therefore outscores the average mark held by the AMD Ryzen Threadripper 3990X in Geekbench's processor chart. The powerful workstation CPU from Team Red has 64 cores and a TDP of 280 W – the Apple Silicon would perform at a much lower power cost. While it's more likely such an M1Z part would appear in a Mac desktop or iMac, there has been suggestion that 20-core Apple Silicon could also feature in a future MacBook Pro laptop.
If that isn't astonishing enough, the possible power of an M1P part should be sufficiently mind-blowing. With 36 CPU cores (32x Firestorm, 4x Icestorm) and 64 or even 128 GPU cores, the M1P would be heading to the best desktop computers Apple could produce. Once again, this information has already been reported by Bloomberg, with iCave Dave making his guesses based on these core counts among other considerations (thermal headroom, scaling, etc.). While the M1P's CPU seemingly has the power to potentially throw out a stunning Geekbench multi-core score of 50,700 points, it's the iGPU's performance that takes the limelight here. The guess for the M1P's iGPU OpenCL score (based on the 128-core model) is an awesome 194,480 points. For comparison, the current chart (based on averages) has the Nvidia GeForce RTX 3080 on 181,131 points and the RTX 3090 on 205,410 points.
Such a chip like this possible M1P could appear in a future Mac mini or Mac Pro, with other tipsters suggesting there could be a larger Mac mini or smaller Mac Pro in the Apple pipeline. Dave modestly admits that they were "getting a little bit silly with kind of extrapolations and conversions" but were also aiming for "ballpark" figures. Of course, Intel, Nvidia, and AMD are not just going to sit and watch Apple demolish the competition without producing their own impressive hardware, but all of this conjectured magnificent M1X/M1Z/M1P performance could become reality before the Cupertino-based company has even announced its likely even more spectacular M2-series microarchitecture.
My interest in technology began after I was presented with an Atari 800XL home computer in the mid-1980s. I especially enjoy writing about technological advances, compelling rumors, and intriguing tech-related leaks. I have a degree in International Relations and Strategic Studies and count my family, reading, writing, and travel as the main passions of my life. I have been with Notebookcheck since 2012.