The Alienware m15 Ryzen Edition R5 offers AMD Cezanne APUs and 115 W NVIDIA RTX 3070 Laptop GPU options. While, ideally, we would expect the device not to throw up any surprises, it looks like customers are getting Alienware laptops with gimped RTX 3070 Laptop GPUs leading to reduced performance.
User u/REAVER117 posted an issue on the Alienware subreddit that the performance observed with his m15 R5 was not on expected lines for an RTX 3070. Upon checking GPU-Z and HWiNFO, it became apparent that the RTX 3070 in the Alienware m15 R5 was reporting just 4,608 CUDA cores, 36 RT cores, and 144 tensor cores while in reality it should be showing 5,120 CUDA cores, 40 RT cores, and 160 tensor cores. This does not seem to be an isolated issue as several other Alienware owners have reported similar mismatches in the same thread.
The other discrepancy observed is that certain models that show 4,608 CUDA cores show higher clocks at 1,285 MHz and a higher pixel fill rate at 166.6 GPixel/s compared to the normal RTX 3070 with 5,120 CUDA cores, which has a 1,215 MHz boost and 155.5 GPixel/s. The OP's GPU-Z readout, however, shows the RTX 3070 Laptop GPU having 1,110 MHz clock and a 149.8 GPixel/s fillrate, which explains the low performance in 3D applications. Another finding is that GPU-Z shows 144 TMUs corresponding to the reported 4,608 CUDA cores but indicates the ROPs as 96, which is actually found only in the RTX 3080 Laptop GPU and the RTX 3070 desktop card.
Apparently, users have taken it upon themselves to sort out the issue. As discovered by user EepoSaurus on the Notebookreview forums, flashing the VBIOS of the RTX 3070 in the m15 R4 onto the m15 R5 seemed to have corrected the specifications though with occasional system hangs since the m15 R4's RTX 3070 is rated at a higher 140 W max TGP. Flashing with a 125 W RTX 3070 VBIOS seemed to result in a much more stable and improved performance in 3DMark Fire Strike.
It is not clear why this discrepancy in CUDA cores is being seen for what is essentially the same GPU. One can understand gimping the card in terms of power or clocks to keep thermals and battery life in check, but cutting on the CUDA cores themselves seems to be quite odd. It is hard to believe that Dell can or would intentionally cripple the GPU. Since flashing another RTX 3070 VBIOS seems to set the values right, it is likely that Dell will release a BIOS update shortly to address this. It is recommended that owners of the m15 R5 or other affected Alienware laptops reach out to Dell for redressal.
Do you own a Alienware m15 R5 or any other model with a crippled GPU? Let us know in the comments below.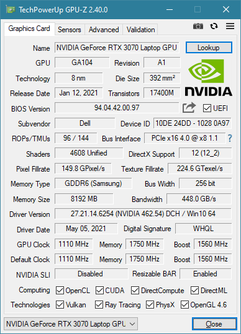 Though a cell and molecular biologist by training, I have been drawn towards computers from a very young age ever since I got my first PC in 1998. My passion for technology grew quite exponentially with the times, and it has been an incredible experience from being a much solicited source for tech advice and troubleshooting among family and friends to joining Notebookcheck in 2017 as a professional tech journalist. Now, I am a Lead Editor at Notebookcheck covering news and reviews encompassing a wide gamut of the technology landscape for Indian and global audiences. When I am not hunting for the next big story or taking complex measurements for reviews, you can find me unwinding to a nice read, listening to some soulful music, or trying out a new game.