Deal | Acer Nitro 5 with Core i5-8300H, GTX 1050 Ti graphics, and 256 GB SSD is only $630 USD right now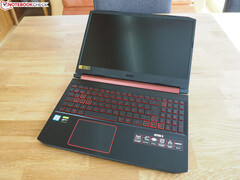 Budget gaming laptops don't have to cost $1000. With Computex 2019 right around the corner, retailers are now offering heavy discounts on last generation SKUs to make room for newer models. The best part is that these older processors are still able to offer nearly the same performance as the latest generation hardware.
Now is a good time to buy a gaming laptop if you are gaming on a budget. The latest 9th generation of Intel CPUs in particular don't offer that much of a performance boost over the now cheaper 8th generation series. Thus, gaming laptops of yesteryear can be found at bottom-of-the-barrel prices and still have almost the same processing horsepower as the latest models.
As of this writing, Best Buy is currently offering the 15.6-inch Acer Nitro 5 gaming laptop for $630 down from its original retail price of $800. The system packs a respectable Core i5-8300H CPU and GTX 1050 Ti GPU which will be about 15 to 20 percent slower than the latest laptops equipped with the newer and pricier Core i5-9300H and GTX 1650, respectively, when gaming. For nearly half the price, however, we think the target audience will appreciate the significantly better performance-per-dollar surrounding the sale.
See our full review on the budget-oriented Acer Nitro 5 to learn more information on the chassis and its features. The deal is just one small part of Acer's week-long Memorial Day sale across a wide range of Acer monitors, PCs, and Chromebooks.