Acer updates Swift 5 ultrabook with Ice Lake CPUs and compact chassis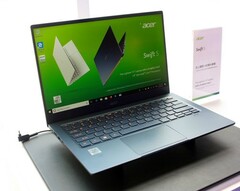 One of the first ultrabooks to get the Project Athena certification from Acer would be an updated Swift 5, even though Intel did not mention anything about this model at Computex. According to Notebook Italia, the updated Swift 5 will feature a 14.1-inch display with narrow bezels, a 2.2 lbs chassis, an Intel Ice Lake-U 15 W CPU, up to 16 GB RAM, NVMe SSD storage and a GeForce MX250 dGPU option.
Intel recently detailed the requirements for its Project Athena ultrabook certification, with Ice Lake CPUs being a prominent prerequisite. The first candidates that will receive the Athena certification include Dell's XPS 13 2-in-1, the HP Envy 13 Wood Series, and Lenovo's Yoga S940. Even though Intel did not mention anything about Acer's models, it looks like a new Acer Swift 5 will also get the Athena certificate later this year, and the Notebook Italia editors already spotted a working prototype at Computex.

Since the Atehna certificate also requires ultrabooks to have a certain weight, Acer will most likely stick to the lightweight magnesium-aluminum / magnesium-alloy materials already used in previous 2.2 lbs Swift iterations. Notebook Italia notes that the Swift 5 prototype showcased at Computex featured a few improvements such slimmer bezels around the 14.1-inch display and a hinge that is no longer visible when the display is in use.

It is not yet clear which 10 nm Ice Lake CPU will be included with the updated Swift 5. Notebook Italia suggests that such ultrabooks should cap out at 15 W TDPs, so we could be looking at a lower-mid U-series CPU with Iris Plus iGPU. There should also be support for up to 16 GB of RAM, NVMe SSD storage and even a GeForce MX250 discrete GPU option. The prototype showcased at Computex integrated USB-C and USB-A ports, as well as WiFi 6 and a fingerprint reader.

Pricing and availability info was not disclosed at Computex.