AMD Ryzen 9 5900X lags behind 12 Intel Rocket Lake and Comet Lake chips while a Coffee Lake CPU and a mobile processor outbench the Ryzen 9 5950X - UserBenchmark really doesn't like Zen 3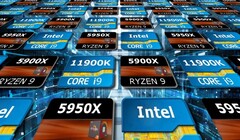 Views, thoughts, and opinions expressed in the text belong solely to the author.
UserBenchmark's travails have been well-documented: The benchmark site is banned from important Reddit groups such as r/intel and r/hardware and has been restricted at r/AMD. The site is well-known for its curious scoring algorithm that places a huge amount of emphasis on single-core performance while practically dismissing multi-core processing (see below for two particularly egregious examples). While AMD managed to fine-tune the Zen 3 microarchitecture that gave Ryzen 5000 desktop processors much better single-core performances than previous generations, this didn't come at the cost of the expected impressive Ryzen multi-core performance. But UserBenchmark clearly just doesn't like Zen 3.
No doubt there will be comments about ignoring UserBenchmark completely, and that there is OEM shilling afoot, etc. but it is hard not to pay some attention to the current state of the site's average bench chart. Two points particularly stand out like AMD-red sore thumbs: A dozen Rocket Lake and Comet Lake CPUs are placed ahead of the Ryzen 9 5900X and a Coffee Lake chip and a mobile/laptop processor have outbenched a Ryzen 9 5950X. Why have gamers and desktop PC enthusiasts made these Zen 3 parts two of the most-wanted CPUs on the planet when there are so many available options from Intel that are apparently "better" than the best Ryzen 5000 has to offer? At least, this is what glancing over the UserBenchmark CPU chart would indicate to an unaware visitor.
First there are the 12 Rocket Lake and Comet Lake chips fending off the critically acclaimed AMD Ryzen 9 5900X. At the top of the chart there is the Intel Core i9-11900K followed by a plethora of Rocket Lake companions and even the Comet Lake i9-10900K before we get to the Zen 3 chip. Comparing the top-end Intel processor's percentages and scores with those of the elite AMD part's results are very typical of UserBenchmark: The i9-11900K beats out the Ryzen 9 5900X in the "Normal" (1-core, 2-core) and "Heavy" (4-core, 8-core) tests by a considerable margin...and that's it. Honestly, there's really no need to pay attention to the "Server" (64-core) test where the Ryzen 5000 chip drums up 158% and 2,355 points compared to the 118% and 1,757 points for the Rocket Lake top dog – after all, multi-core processing in computing isn't important anyway, right?
It's that skewed philosophy that allows the 16-core AMD Ryzen 9 5950X to be outbenched by both the Coffee Lake Intel Core i9-9900KS and by the i9-11950H mobile processor. Admittedly, the Rocket Lake 8-core laptop processor is a fast unit but outbenching the cream of Zen 3, even by just 1% (101% vs. 100%), must have involved some unparalleled planetary alignment at the very least. The "Normal" and "Heavy" scores for the two are very similar – but the Ryzen 9 5950X is in another galaxy when it comes to the "Server" test: 196%/2,926 points vs. 101%/1,498 points. Sticking with the current astronomy theme, it's reasonable to say that UserBenchmark's CPU chart is clearly not so much out of this world as simply on another planet.
| Processor | Bench | Normal | Heavy | Server |
| --- | --- | --- | --- | --- |
| Intel Core i9-11900K | 110% | 118%/217 points | 123%/980 points | 118%/1,757 points |
| AMD Ryzen 9 5900X | 101% | 104%/188 points | 110%/890 points | 158%/2,355 points |
| --- | --- | --- | --- | --- |
| Intel Core i9-11950H | 101% | 103%/196 points | 113%/885 points | 101%/1,498 points |
| AMD Ryzen 9 5950X | 100% | 104%/188 points | 111%/899 points | 196%/2,926 points |
Top 10 Laptops
Multimedia, Budget Multimedia, Gaming, Budget Gaming, Lightweight Gaming, Business, Budget Office, Workstation, Subnotebooks, Ultrabooks, Chromebooks
under 300 USD/Euros, under 500 USD/Euros, 1,000 USD/Euros, for University Students, Best Displays
Top 10 Smartphones
Smartphones, Phablets, ≤6-inch, Camera Smartphones
Views, thoughts, and opinions expressed in the text belong solely to the author.