Rocket Lake could be in trouble: AMD announces the Ryzen 5000 Zen 3 Vermeer lineup led by the 16C/32T Ryzen 9 5950X — Promises significant IPC, gaming, and single-thread gains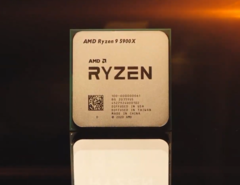 After several rounds of leaks and anticipation, it is finally here. AMD CEO Lisa Su took to the stage in a pre-recorded stream to unveil the next generation of Ryzen processors. Today's launch event includes the Ryzen 5000 series processors and also a sneak peek at the upcoming Radeon RX 6000 GPU. So without further ado, here are all the juicy details.
Ryzen 5000 platform — 19% IPC increase and 26% better gaming performance
Yes. The name is officially the Ryzen 5000 series as was speculated before. AMD is aligning the desktop and mobile SKUs in the same series to prevent confusion. The Ryzen 5000 series is based on the Zen 3 architecture. We will hopefully be able to cover the architectural details in a later article. For now, the Zen 3 consumer lineup is led by the Ryzen 9 5950X featuring 16 cores and 32 threads. The next major CPU in the lineup is the Ryzen 9 5900X with 12 cores and 24 threads. AMD says that the Ryzen 9 5900X offers up to 26% higher gaming performance when compared to a Ryzen 9 3900XT in 11 popular games at 1080p High settings.

We have discussed a bit about AMD's new cache architecture before and that seems to be finally seeing the light of the day. The Zen 3 CPU complex (CCX) will house eight cores with a common 32 MB L3 cache. This is different from the previous Zen 2 architecture in which each CCX comprised of four cores with a 16 MB L3 cache. The new common 32 MB cache should help a lot in minimizing latency at least theoretically. We will get to know the exact quantum of benefit, especially in gaming, once we get our hands on a test sample.
AMD says that this new core architecture should yield a 19% generational increase in instructions per cycle (IPC). Perusing the footnotes, we get to know that the IPC uplift was evaluated over a series of 25 workloads, which were run at a locked 4 GHz clock on the Ryzen 7 3800XT and the Ryzen 7 5800X (common config to both systems - NVIDIA RTX 2080 Ti, Samsung 860 Pro SSD, 2x 8 GB DDR4-3600 RAM).

So overall, AMD claims a 2.8x higher performance-per-watt compared to the Core i9-10900K as gauged from a Cinebench R20 multi-core test that also includes the Ryzen 9 3900XT, Ryzen 9 5900Xt, Ryzen 9 3950X, and the Ryzen 9 5950X. Another set of AMD's claims include the following:
Ryzen 9 5950X:
Highest single-thread performance versus the Core i9-10900K in Cinebench R20 single-thread test
Highest multi-core performance in a mainstream desktop socket in Cinebench R20 multi-core test.
Ryzen 9 5900X:
7% faster in 1080p gaming in 11 selected titles when compared with the Core i9-10900K.

26% faster in 1080p gaming across 11 select titles when compared with the Ryzen 9 3900XT.

SKUs and availability — No more bundled stock coolers
The Ryzen 5000 lineup starts from the 6C/12T Ryzen 5 5600X and goes all the way up to the Ryzen 9 5950X. The core counts and cache sizes remain unchanged and so are the TDPs. Boost clocks are slightly higher and this combined with the purported IPC gains should result in good benefits across workloads. One important change from last year is that AMD will be doing an Intel and no longer bundle stock coolers with the processors save for the Wraith Stealth with the Ryzen 5 5600X. The new SKUs are US$50 costlier than the launch MSRPs of the previous generation. Not having a bundled cooler may be disappointing for users, whose workloads are perfectly suited for the previously bundled Wraith coolers.
AMD has not announced any new chipsets today. However, the company confirmed that Ryzen 5000 series processors are compatible with current 500-series motherboard with a drop-in BIOS update. All SKUs announced today are expected to be available globally on November 5, 2020.

| SKU | Cores / Threads | TDP (W) | Base / Boost Clocks (GHz) | Total Cache (MB) | Cooler | SEP (USD) | Expected availability (in 2020) |
| --- | --- | --- | --- | --- | --- | --- | --- |
| AMD Ryzen 9 5950X | 16 / 32 | 105 | 3.4 / 4.9 | 72 | N/A | 799 | November 5 |
| AMD Ryzen 9 5900X | 12 / 24 | 105 | 3.7 / 4.8 | 70 | N/A | 549 | November 5 |
| AMD Ryzen 7 5800X | 8 / 16 | 105 | 3.8 / 4.7 | 36 | N/A | 449 | November 5 |
| AMD Ryzen 5 5600X | 6 / 12 | 65 | 3.7 / 4.6 | 36 | Wraith Stealth | 299 | November 5 |
Early buyer goodies
Customers who buy an AMD Ryzen 9 5950X, Ryzen 9 5900X, or a Ryzen 7 5800X between November 5 and December 31, 2020 stand to receive a complimentary copy of Far Cry 6 Standard Edition when released. This offer is also applicable to customers who buy the previous generation Ryzen 9 3950X, Ryzen 9 3900XT, or a Ryzen 7 3800XT between October 20 and December 21, 2020.

Source(s)
AMD Press Release and Livestream
Though a cell and molecular biologist by training, I have been drawn towards computers from a very young age ever since I got my first PC in 1998. My passion for technology grew quite exponentially with the times, and it has been an incredible experience from being a much solicited source for tech advice and troubleshooting among family and friends to joining Notebookcheck in 2017 as a professional tech journalist. Now, I am a Lead Editor at Notebookcheck covering news and reviews encompassing a wide gamut of the technology landscape for Indian and global audiences. When I am not hunting for the next big story or taking complex measurements for reviews, you can find me unwinding to a nice read, listening to some soulful music, or trying out a new game.